Thailand claims deal for night race close
Officials suggest deal for 2014 GP agreed in principle
Last Updated: 27/09/12 9:52am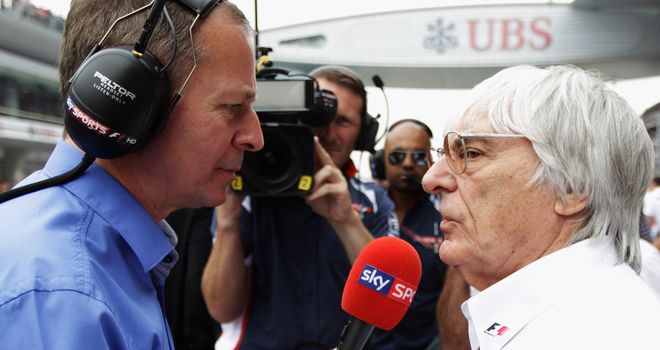 Bernie Ecclestone: Said to have spoken to Thai officials in Singapore
Officials in Thailand have claimed that they had agreed a deal in principle with Bernie Ecclestone to host a night race in Bangkok from 2014.
THE ONLY PLACE TO BE
Sky Sports F1 HD is THE only place to watch the 2012 F1 season in full live. Our extensive coverage continues with the Japanese GP exclusively live on 5 -7th October.
FRIDAY 5th - P1 from 1:45am. P2 from 5:45am
SATURDAY 6th - P3 from 2:45am. Q from 5:00am
SUNDAY 7th - Race from 5.30am
To find out all the different ways to watch the action, click here
Speculation that the Asian country was going to pitch to join the Formula 1 calendar has swirled for a couple of years with government officials having spoken about the positive affect the sport could have on the country in wake of a successful Red Bull street demonstration in Bangkok in 2010.
And now according to the local Bangkok Post, a race is now firmly in the pipeline with the Governor of Thailand's Sports Authority Kanokphand reportedtly having met with Ecclestone to discuss a deal at last weekend's Singapore GP.
Although the hosting fee Thailand will pay is not said to have been finalised in that meeting, Kanokphand has nonetheless suggested the country will follow Singapore's lead in staging a race under floodlights.
"It will be a city race like that in Singapore and Monaco," the newspaper quoted the official as saying.
"It will be a night race like the Singapore Grand Prix."
An advisor to the central Red Bull company ownership was also involved in the discussions with Ecclestone, the energy drink's firm having originated in Thailand, while Dietrich Mateschitz has also spoken in the past of his desire to see a race take place in the country.
Since joining the F1 calendar in 2008 Singapore has remained the sole night grand prix on the schedule and last weekend signed a five-year extension to their race-hosting contract. However, asked by reporters if another country would be allowed to run their own floodlit event during Singapore's new term, Ecclestone said: "It's difficult to know. The trouble is they've started something that's so popular worldwide that I'm sure other people are going to want to do this.
"Now whether or not we're going to be happy with that, I don't know. We're very happy with what we've got in Singapore - more than happy.
"I'm very, very proud that they had the courage to do this in the first place."
Should Thailand join the calendar in two years' time then it would raise the further likelihood of the schedule expanding beyond 20 races for the first time, or more established events being dropped, given Russia is also set to make its long-awaited F1 debut in 2014.