Di Resta joins Button's management
But possible conflict of interest ruled out by firm if di Resta switches to McLaren
Last Updated: September 9, 2012 5:54pm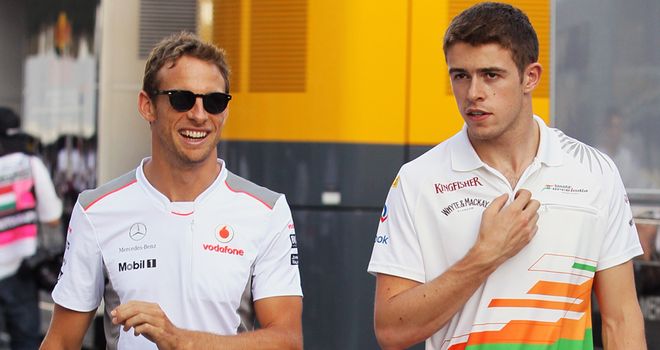 Jenson Button and Paul di Resta: Now part of the same management stable
Formula 1 Betting

Formula 1 Betting

£10 Free Bet
Paul di Resta has announced that he has teamed up with the same management company that looks after Jenson Button's career, ahead of a potential move up the grid for the Scottish driver at the end of the season.
The Force India driver had been operating without a manager since confirming at the British GP in early July that he had ended his relationship with Lewis Hamilton's father, Anthony, who had looked after his affairs since he entered Formula 1 full time at the start of last season - a split which is now said to be the subject of legal proceedings.
With the Scot set to be heavily in the frame for a promotion up the grid should one or more seats across McLaren, Ferrari and Mercedes become available for 2013, it was considered a priority for di Resta to appoint a new management team as quickly as possible.
And in wake of delivering his best-ever qualifying performance at Monza on Saturday, di Resta released a statement on his official website saying that, after a successful initial spell in an advisory capacity, he had appointed management outfit The Sports Partnership to look after his career, the firm jointly set up by Button and his long-time managers Richard Goddard and James Williamson.
"It's no secret that I have been looking for new representation and I am delighted to have found this with The Sports Partnership," he said in the statement.
"They have been assisting me in a purely advisory capacity whilst I've been making my decision.
"Based on how that's gone, and having seen what they've achieved with other clients in and out of the sport of F1, it became clear that it was the right way to go.
"Having the right team behind me will allow me to focus on what's important, which is to continue to develop as a driver, further my career in F1 and ultimately fight it out for race wins and a world championship."
The appointment of The Sports Partnership comes what is likely to be a pivotal moment in di Resta's nascent F1 career, with the 26-year-old considered the favourite to partner Button at McLaren if Lewis Hamilton switches to Mercedes.
Should di Resta and Button become team-mates next year it could theoretically raise issues over a conflict of interest within the management stable - but Goddard has insisted that it wouldn't be the case.
"It wouldn't be a conflict at all," he told The Daily Telegraph.
"Naturally they would be trying to beat each other in that situation but my role as a driver-manager is to help a driver to the best of my ability, not to harm his team-mate in any way. So I wouldn't be looking to help one over the other.
"Besides, there are two of us at the top of The Sports Partnership and if needed James could always look after one whilst I looked after the other."