Ferrari test 2014 engine
Scuderia run 1.6-litre turbo on dyno
Last Updated: August 28, 2012 5:00pm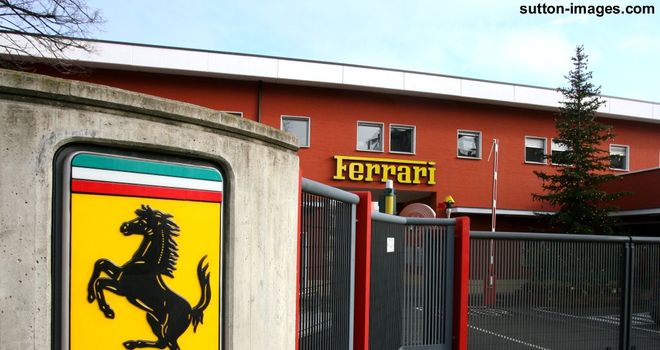 Ferrari: Thinking ahead to the 2014 season
Formula 1 Betting

Formula 1 Betting

£10 Free Bet
Ferrari have revealed that they are running a 2014-specification engine on a test bed at their Maranello headquarters.
The Italian marque, together with fellow Formula 1 suppliers Mercedes-Benz and Renault, will swap their current 2.4-litre V8 engines for brand new 1.6-litre V6 turbos in what amounts to the first change in the engine regulations since 2006.
The switch has been prompted by the FIA and will see cars more reliant on recoverable energy than is currently the case.
As such, exhaust heat will join KERS as a power source - it is anticipated that the contribution of recoverable energy will increase by a factor of 10 - with a greater emphasis placed on fuel efficiency.
Speaking to the official Ferrari website during a video interview, engine and electronics director Luca Marmorini said: "This is a very challenging period for our powertrain people.
F1 engine rules for 2014
1.6-litre V6 engine with a single turbocharger.
improved fuel efficiency (fuel flow will also be limited).
greater emphasis placed on recoverable energy (KERS plus heat energy from exhausts).
teams restricted to five engines per car per season (reduced from the current eight).
"We are working on the 2012 powertrain and the rest of the season is very important. No-one has also mentioned that we need to work on the 2013 engine, which is a lot of work with a new installation.
"At the same time, we have the first V6 on the dyno and that is a very interesting project. The 2014 regulations are extremely challenging and there are completely new Formula 1 powertrain regulations, mostly focussed on energy recovery.
"Our V6 is running at the moment and we are running a lot of things. It is a turbo engine; we are really focussed on that and interpreting the rules in the right way."
Although the rule change will once again allow engine development to become a key factor in F1 competition, it is unclear whether suppliers other than Ferrari, Mercedes and Renault will join the fray.
Development costs may well prevent Cosworth, who currently supply both Marussia and HRT, staying on while newcomers PURE, founded by former BAR Team Principal Craig Pollock, recently announced that they are suspending development of their engine for financial reasons.