Horner sure Alonso will stumble
RBR chief hoping costly retirements begin to balance out
Last Updated: June 25, 2012 5:26pm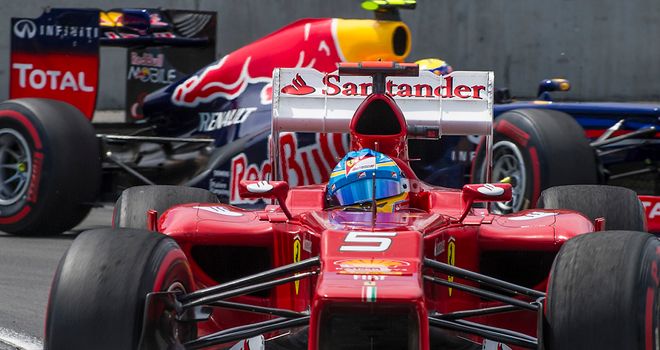 Fernando Alonso: Leads Mark Webber by 20 points
Formula 1 Betting

Formula 1 Betting

£10 Free Bet
Red Bull Racing chief Christian Horner says Fernando Alonso's title challenge is bound to hit a setback sooner or later in the way that both his team and rivals McLaren experienced in Valencia.
The Ferrari number one will head into next week's British GP boasting the only 100% points-finishing record in F1 this season after Lewis Hamilton retired in the closing stages at Valencia, with Alonso's impressive run of top-10 finishes actually stretching back 20 races to last year's Canadian GP.
Horner saw his driver Sebastian Vettel lose what had appeared a near-certain victory after his RB8's Renault engine alternator overheated following the mid-race Safety Car, bringing up the reigning World Champion's second DNF in eight races this season, but the RBR Team Principal is sure Alonso will experience his own bumps in the road over the remaining 12 races.
"Fernando has done a tremendous job, scoring in every single race, but statistics say he has to have one bad weekend in 20," he said.
THE ONLY PLACE TO BE
Sky Sports F1 HD is THE only place to watch the 2012 Formula 1 season in full live. Our extensive coverage continues with the British Grand Prix on 6-8th July.
FRIDAY 6th - P1 from 9.45am. P2 from 1.45pm
SATURDAY 7th - P3 from 9.45am. Q from 12pm
SUNDAY 8th - Race from 11.00am
To find out all the different ways to watch the action, click here
"It will hopefully balance itself out over the course of the season.
"Others had difficult days as well - Lewis (Hamilton) did not finish - but we have extended our lead in the constructors' championship by a further eight points."
After stunning the paddock by claiming pole by three tenths of a second on Saturday at the end of an otherwise tightly-fought qualifying hour, Vettel relentlessly outpaced initial chief pursuer Hamilton and then Lotus's Romain Grosjean to establish a 20-second lead prior to the deployment of the Safety Car.
And although the alternator failure ultimately intervened to deny the World Champions a hat-trick of Valencia wins, Horner feels there were plenty of positives to take from the heavily upgraded RB8's pace which bode well for Silverstone and beyond.
"We were in a commanding position, so it was very disappointing to have a DNF," said Horner.
"Together with Renault I'm sure we'll learn from it and hopefully we will not see a repeat.
"The comfort we must take out of Seb's performance was that he was in complete control and had tremendous pace.
"We know we have a quick car, and we have had three poles from the last three races, and that is encouraging."