Kimi: No rift with Lotus
Finn says relationship with the team the same as it always has been
By William Esler. Last Updated: 21/06/12 5:48pm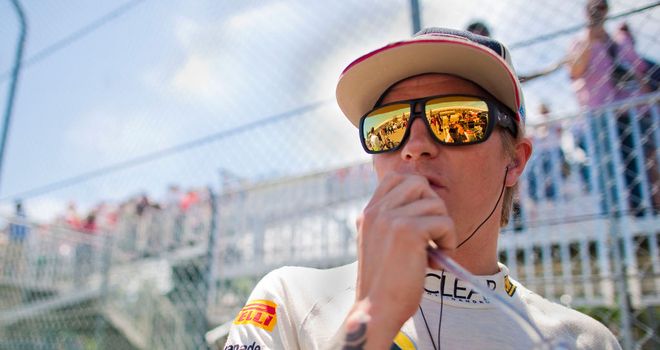 Kimi Raikkonen: Claims there is no rift with Lotus
Formula 1 Betting

Formula 1 Betting

Bet with Sky Bet
Former World Champion Kimi Raikkonen has denied reports of a rift between himself and the Lotus team.
Reports suggested that the Finn's relationship with Team Principal Eric Boullier had become strained after he prevented Raikkonen from making a one-off rally appearance in his homeland.
Steering difficulties in Monaco, where Raikkonen sat out the first practice session whilst a new steering system was fitted to the E20, apparently angered some mechanics as team-mate Romain Grosjean had no such issues.
THE ONLY PLACE TO BE
Sky Sports F1 HD is THE only place to watch the 2012 Formula 1 season in full live. Our extensive coverage continues with the European Grand Prix on 22 -24th June.
FRIDAY 22nd - P1 from 8.45am. P2 from 12.45pm
SATURDAY 23rd - P3 from 9.45am. Q from 12pm
SUNDAY 24th - Race from 11.30am
To find out all the different ways to watch the action, click here
Asked whether he was no longer seeing eye-to-eye with the team, Raikkonen said: "I don't know where you heard that. Go and ask the team and you will get the truth."
Pressed as to the truth from his perspective, Raikkonen replied: "It's no different to the first time I met them."
Then asked as to whether he was still happy at Lotus, the Finn said: "Why wouldn't I be?"
Despite not winning a race so far this season, Raikkonen is pleased with how his return to the sport has gone.
"If you had told me before the season I'd be on the podium a few times and have scored 55 points by now then I would probably have been pretty happy," he added.
"It's the same for the team. If you had asked them before the season if they would be happy with these results then they would have taken them.
"They probably wouldn't have expected to be so high up, but then when you are up there, then you start expecting to win.
"We've been so close to certain results, so certain races have been a bit disappointing, and you are disappointed when you don't win."