New Mercedes takes to the track
Rivals wary of team's late unveiling of 2012 challenger
Last Updated: 17/02/12 8:25am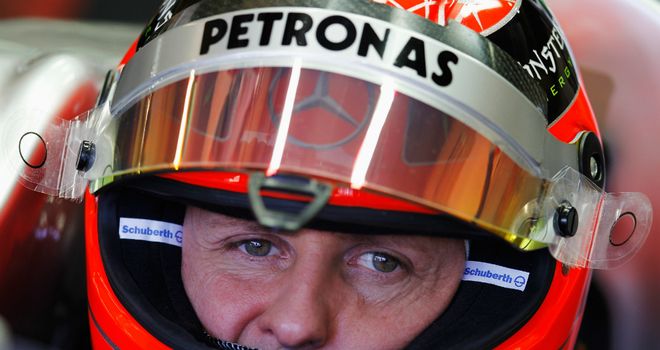 Michael Schumacher: put the 2012 Mercedes through its paces at Silverstone
Formula 1 Betting

Formula 1 Betting

Bet with Sky Bet
Mercedes have given their new W03 F1 challenger a shakedown at Silverstone ahead of its official launch in Barcelona next Tuesday.
Michael Schumacher and Nico Rosberg each did 50km for what was officially a private filming day.
Their late unveiling has led to suspicions the team has something to hide from its 2012 rivals.
German media have speculated that the car has been held back to give rivals less time to crack its secrets before the season opener in Australia next month.
Red Bull's Adrian Newey says that is always a possibility.
"I was told by the German press, whether this is true or not, that the car was ready to run at the last test but they chose not to and why would that be?," he said before being inducted into the Motor Sport magazine Hall of Fame.
Copied
"I said I've got no idea but why you might choose to do that would be if you had some feature on your car which you think is a big benefit and which is relatively easily copied. I'm not saying that is the reason, but it's a possible reason."
The Mercedes, he said, would be looked at closely by rivals only if its performance indicated they were on to something.
"If it comes out and goes three seconds quicker than anybody else, yes of course," he said.
"Other than that, simply because its later doesn't mean to say you are going to suddenly show more attention at that than anybody else's."
Mercedes say they decided to launch the car later than others to give themselves the maximum time for development. Apart from Mercedes, only Marussia and HRT have yet to take the wraps off their 2012 machines.
Newey says it takes about six weeks to evaluate properly a development on a rival car and get it to the point where you could put it on your own.
"If you were prepared to simply go out and copy it because you think it's such a blinding idea without actually evaluating it properly then you can cut a bit of time out of that," he added.