Senna out to prove his worth
Williams driver Bruno Senna says he has been given the 'perfect opportunity' to show his true talent during the upcoming F1 season.
Last Updated: 08/02/12 2:58pm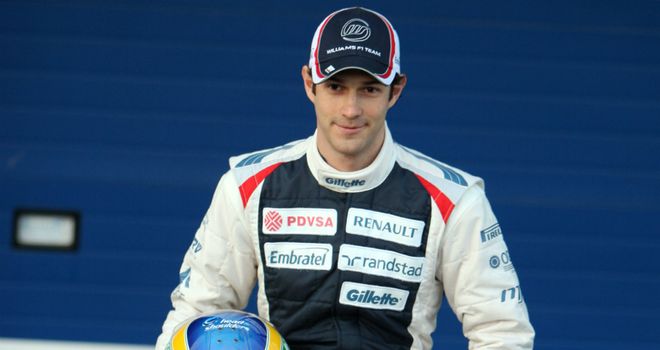 Williams driver Bruno Senna says he has been given the "perfect opportunity" to show his true talent during the upcoming Formula One season.
The Brazilian was a consistent backmarker during his debut season with Hispania, before being dropped by the team and subsequently brought in by Renault for the last eight races of 2011 campaign.
But Senna, who is the nephew of legendary three-time world champion Ayrton, will now get a full winter of preparation with a well-established team at Williams.
The 28-year-old is confident he has already shown he is quick enough to make an impact in F1, but believes he is now in a great position to prove he can fight it out with the very best on a consistent basis.
"I like this kind of pressure. The pressure I have to be competitive and not the, 'oh, I can't do anything wrong today because I might not be in the car tomorrow' kind," Senna said.
Competitive
"I know I can be very competitive, I've proven it in the past and even recently in the Renault car. I can be quick.
"This is all pretty straightforward to me. The difficult thing is to prove to everybody that I can be consistent and that I can win races.
"I have done that in GP2, so I think this is the perfect opportunity to show what I am made of. It's a normal year and that's what I have been looking for the last three years."
Senna also insists that his family have given him nothing but support for his move to Williams, despite Ayrton driving a Williams when he was tragically killed almost 18 years ago.
He added: "Many people ask me about how my family felt about my coming to Williams and everything. Everybody is super happy.
"My grandfather (Ayrton's father), everybody, because everybody has been working so hard for this to happen.
Pedigree
"They know that the team is a strong team with a good pedigree, hopefully we will back on top form together."
Senna also insisted that he felt no pressure to live up to the billing he was once given by Ayrton, who said that "if you think I'm fast, just wait until you see my nephew Bruno".
"It's no pressure. Of course, Ayrton regarded me very highly in go-karts but being quick is not everything that a real race driver needs," Senna said.
"A race driver needs to be quick, to be intelligent, to have good relationships and be in the right place at the right time. There are a lot of factors that would create a successful race driver.
"We are trying to put them all together and I think this is the start of the right conditions for me."