Kubica targets 2011 return
Pole thinks rally accident will make him a stronger driver
Last Updated: 11/02/11 10:50am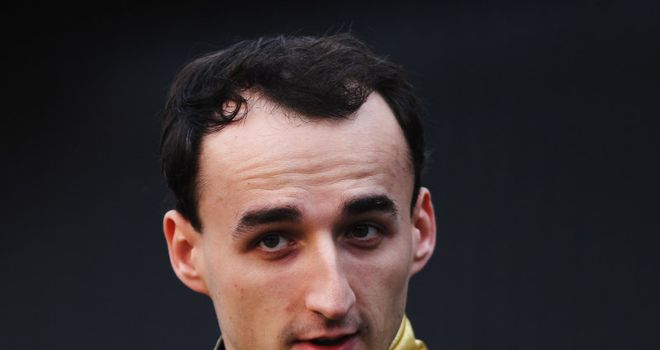 Kubica: determined to return in 2011
Formula 1 Betting

Formula 1 Betting

Bet with Sky Bet
Robert Kubica has vowed to make his Formula One comeback before the end of the 2011 season and thinks his rally accident will make him a stronger driver.
The Pole is responding well to treatment in a hospital in Italy after suffering a partially severed right hand as well as multiple fractures to his right arm and right leg in a crash in Sunday's Ronde di Andora rally.
Kubica is expected to miss the whole of the 2011 season but he has told Gazzetta dello Sport: "I want to return this year.
"I am really determined to reduce the recovery time with a very defined programme."
The Renault driver had seven hours of surgery to reattach his right hand after he was airlifted to a hospital in Savona following the crash.
Kubica, who is set to undergo further surgery on Friday, said: "The fingers work and so does the arm, I can feel them.
"But I still have to undergo another operation and then I will know.
"I cannot move much right now. But I don't have much pain because I'm sedated.
"On Saturday I will be able to know what my condition is after I undergo the double surgery (arm and foot).
"Then there will be the countdown to begin preparation. I only have that in mind.
"I want to return stronger than before."
Better
The 26-year-old says his experiences following a heavy crash at the 2007 Canadian Grand Prix lead him to believe that he can return to F1 a better driver than before.
On that occasion, Kubica escaped from a high-speed impact with little more than light concussion and a sprained ankle, although he was forced to miss the United States Grand Prix the following week.
He also required surgery to his left arm after being a passenger in a road accident in 2003.
"After this accident, you are no longer the same, you are better," added Kubica.
"I had already gone through that in 2007 after the crash in Canada.
"I was out for one race and when I came back I was better. A driver is not just about accelerating and steering.
"There is a difference between those that drive at 85 percent and those that drive at 95 percent. The 15 percent remaining is the capacity and motivation that comes out of you.
"Since 2007, I'm a stronger driver and I'm stronger mentally. It will be the same this time when I recover physically."
Kubica has no memory of the accident, caused when his Skoda Fabia left the road and collided with a church wall.
The severity of his injuries was caused by a guard-rail which penetrated the front of the car.
"I really don't know what happened because I don't remember anything of the accident," said Kubica.
"I just found myself in hospital and my agent Daniele Morelli has explained everything to me.
"I am saddened with what has happened. It should not have happened.
"I am sorry for my mother because I have made her worry and suffer.
"One does this job but never thinks of the consequences. I just know that I did the rally and now I am in this bed."
Passion
Although Renault have been criticised for allowing him to take part in rallies, Kubica said that he has no regrets.
"Rallies are my passion," he said.
"They are a hard training, severe for Formula One.
"I drive better in Formula One because I have taken part in many rallies.
"The rallies help you in concentration, considering that in Formula One there are very few tests.
"Rallies have allowed me to work on certain areas that I can improve on. It is important in a season where you have 20 grands prix."
Asked if he would take part in future rallies once he recovers, Kubica added: "I don't know, we will see at the time."