Rossi insists: No F1 switch
Italian star says he has missed his chance to race F1
Last Updated: 04/02/09 11:24am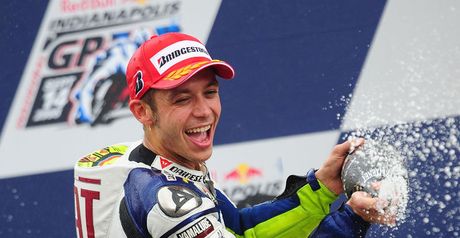 Rossi: Staying with bikes
Formula 1 Betting

Formula 1 Betting

Bet with Sky Bet
MotoGP world champion Valentino Rossi has once again dismissed any chance of racing in Formula One.
Despite another recent test for Ferrari, the 29-year-old said he now believes he has missed his chance to make the switch.
However, the Yamaha rider did say that he could concentrate on rallying after his career on two wheels has drawn to a close.
The Italian, who took part in Rally GB late last year, said: "I have always loved rally, ever since I was little. It is one of my great passions and it is great to do one when I have the time and the chance.
"I always enjoy it a lot and, probably, when I have given up the bikes and when I have the chance to improve and I have more time, I will do more.
"But it's not a close future, because I still want to race with the bike for a few more years."
Speculation was rife three years ago that Rossi was on the verge of switching to F1 after he tested extensively for Ferrari.
However, he elected to stay in MotoGP and despite last November's outing at Mugello, he insisted he has made the right decision.
Rossi explained: "To try the Ferrari again was a great emotion. I have always been a great fan of racing cars, not just of rally. I was fast, so I was happy; I am fast enough also in Formula One.
"In 2006 I decided to stay with the bike and, of course, I still have some doubts, but just to climb inside the red car at Mugello and work with Ferrari was fantastic.
"I had my chance and I decided to stay with bikes. The choice is made and I don't think that there will be another possibility."