Alonso tops driver wages - report
Double World Champion highest earner on the F1 grid
By William Esler. Last Updated: 01/06/12 12:56pm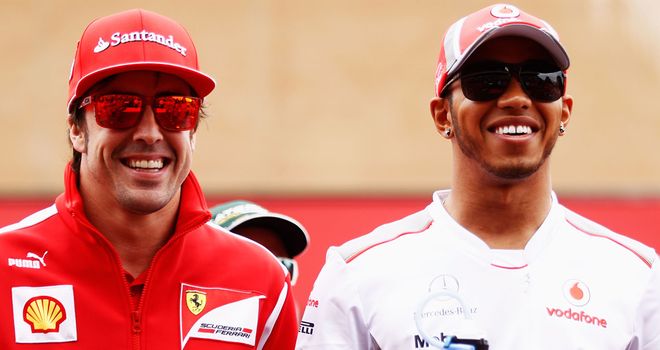 The two highest-paid drivers in Formula 1
Formula 1 Betting

Formula 1 Betting

Bet with Sky Bet
Fernando Alonso is by far the highest-paid driver in Formula 1, according to figures published by the Business Book GP 2012.
The French publication estimates the Ferrari driver to be earning €30 million per annum, excluding sponsorship deals.
That is nearly double the €16million McLaren pay 2008 World Champion Lewis Hamilton and 2009 title winner Jenson Button.
At Red Bull, both drivers are also paid equally on €10million a year, the same as Felipe Massa. That means the Brazilian is paid some €20million less than his team-mate, indicating that Alonso enjoys superiority at Ferrari.
Another reported notable disparity between driver salaries is at Force India, with Nico Hulkenberg (€500,000), earning more than double that of Paul di Resta (€200,000).
Reported F1 Salaries *
1. Fernando Alonso - €30 million
2. Lewis Hamilton - €16 million
= Jenson Button - €16 million
4. Sebastian Vettel - €10 million
= Mark Webber - €10 million
= Felipe Massa - €10 million
= Nico Rosberg - €10 million
8. Michael Schumacher - €8 million
9. Kimi Raikkonen - €5 million
10. Heikki Kovalainen - €4 million
11. Timo Glock - €3 million
12. Kamui Kobayashi - €1 million
= Romain Grosjean - €1 million
14. Nico Hulkenberg - €500,000
= Sergio Perez - €500,000
= Vitaly Petrov - €500,000
= Pedro de la Rosa - €500,000
18. Jean-Eric Vergne - €400,000
= Daniel Ricciardo - €400,000
= Pastor Maldonado - €400,000
21. Bruno Senna - €250,000
= Nairan Karthikeyan - €250,000
23. Paul di Resta - €200,000
24. Charles Pic - €150,000
* Source: Business Book GP 2012