Pit mistake puts Schumi out
Seven time World Champion forced to retire with loose wheel
By William Esler. Last Updated: 15/04/12 12:11pm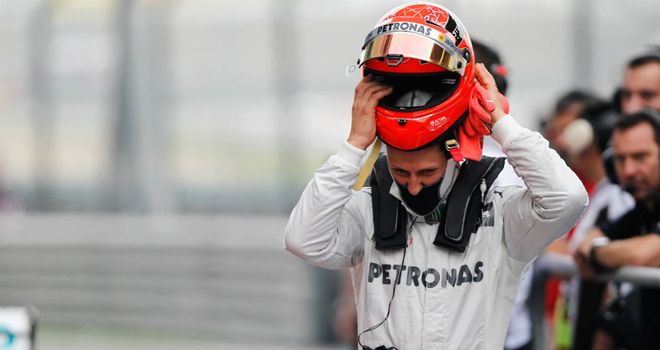 Michael Schumacher: Retired from the Chinese Grand Prix
Michael Schumacher was forced to retire from the Chinese Grand Prix after a mistake during his first stop meant his car's front-right tyre was not attached properly.
One of the Mercedes mechanics appeared to have trouble with the original wheel gun, and when he went to switch to a back-up, the German driver was released by the team's automated light system.
THE ONLY PLACE TO BE
Sky Sports F1 HD is THE only place to watch the 2012 Formula One season in full. We will have live and exclusive coverage of the Bahrain Grand Prix starting with P1 on Friday.
FRIDAY - P1 from 7.45am. P2 from 11.45am
SATURDAY - P3 from 8.45am. Q from 11am
SUNDAY - Race from 11.30am
To find out all the different ways to watch the action, click here
The 43-year-old was on course for his best result since his return to Formula 1 in 2010, running in second spot, behind his team-mate with the Silver Arrows looking strong.
A despondent Schumacher told Sky Sports F1: "The front wheel got loose. We need to check why and exactly what happened.
"I feel a bit sad for one of our boys, but I will hug him later on and calm him down."
Race stewards later fined Mercedes €5,000 (£4,131) for what was deemed to have been "unsafe release" from the stop, although they added that the "prompt action of the driver, in stopping the car as soon as the problem was noticed, is taken into account in the penalty determination".