Mark Hughes' 2012 driver preview
F1 expert talks Kubica, Hamilton, Vettel and much more
Last Updated: 04/05/12 10:21am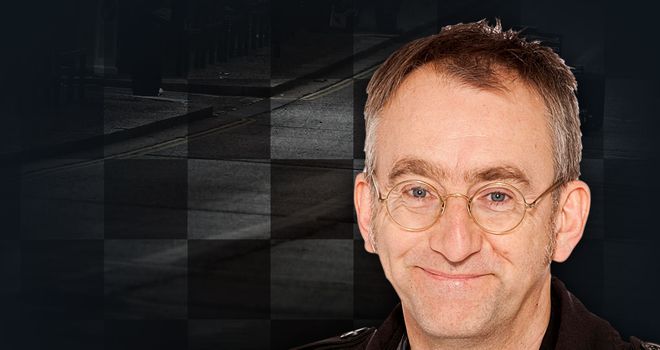 Ahead of what promises to be a defining season for a number of the grid's leading drivers, we sat down with Sky Sports F1's Commentary Expert Mark Hughes for an extensive chat about the years ahead for F1's big names.
After talking Nico Rosberg, Michael Schumacher and Paul di Resta in part one, Mark turns his attention to some of the drivers likely to be competing for the very top honours in 2012...
You're a big fan of Robert Kubica. How likely is it that he will return?
MH: It would be one of the all-time sporting stories if he came back and was successful.
And his return is most likely to be with Ferrari?
MH: I think they will try to get him in an old car during the second half of the year and see how it goes. If it goes well, I'd expect to see him in a Ferrari next year.
And then the million-dollar question: what does the future hold for Lewis when his contract with McLaren expires at the end of the year?
MH: My gut feeling is that Lewis still has his heart set on Red Bull.
Really? But because of what happened with Alonso during their year together at McLaren, would Red Bull take him?
MH: Nobody is questioning his talent; it's a maintenance issue. My impression is that Red Bull suspect that Lewis might be slightly quicker than Sebastian but not by enough to make it worth all the baggage and they believe Sebastian, as an overall package, to still be the better driver.
So that route is blocked off for Lewis then?
MH: Not necessarily because it's not the racing team's decision. It's the owner's decision and if you think of it from a marketing perspective then it's the ultimate choice: Sebastian v Lewis, Germany v England, the two fastest drivers in F1 in the same car. It would be a marketing dream.
What chance of Sebastian joining Mercedes though?
MH: They would love to get together with Seb - which team wouldn't? - but he would be very reluctant to move away from Adrian Newey. The trick would be convincing Adrian to move with him - and that would be a very hard sell. The hardest!
But what has Sebastian got left to prove at Red Bull? Surely the possibility of 'doing a Schumacher' at Ferrari must appeal to him?
MH: He is very much aware of his place in the record books. This seems to be his challenge at the moment - he seems very intent on breaking records. He's a very bright guy, and he can see his route to those numbers, numbers that might even challenge those of his friend Michael Schumacher in years to come. His key to those numbers is Adrian.
So, after two successive championships, does he deserve to be regarded as the best driver in F1?
MH: As an all-round package...very possibly. He was certainly the best last year.
And Fernando?
MH He is - and was - fantastic He was stymied by a car that struggled to get heat into his tyres and couldn't drive it the way he is capable of driv-ing it. Seb didn't have those problems, but Seb also absolutely delivered with what he was given. Sometimes circumstances don't allow you access to your best stuff and so there's often a distinction to be made between 'the best' driver and the driver that performed to the highest level.
Just why does the Ferrari perennially struggle to put heat into their tyres?
MH: That's been their theme for years. They stayed with the design concept for too long and, though it can be of benefit in certain circumstances, the characteris-tics of the Pirellis meant that it was, on the whole, a negative - more so than in previous years and more so than it ever was with the Bridgestones.
So why stay with it?
MH: They misjudged how that trait would be punished by both the Pirellis and the power of exhaust-blown diffusers. What they had was a car that, when it warmed up its tyres, was very, very fast. Unfortunately that's not much use if, as during last season, they were falling twenty seconds behind when those tyres were getting up to speed. If they could have got tyre heat into that car for qualifying then it would have been a frontrunner, no question.
So signing ex-Bridgestone boss Hirohide Hamashima should be a good move then...
MH: Yes, it's a good move, but it's also an obvious move really. I'm not sure why another team didn't do it first. He's an excellent man.
The team that really struggled, though, was Williams. What hopes do you have for them next season?
MH: I'm quite optimistic about Williams this year. Every-thing I hear from the factory is very encouraging. I think it's quite unrealistic to envisage them coming back with a winning car but I'm confident that last year was rock bottom and they are now starting out on a recovery.
But having replaced Rubens Barrichello with Bruno Senna, they'll be starting out with a very inexperienced line-up though. Was it a wise decision?MH: I can definitely understand Williams' interest in him and I think that Bruno is a lot better than the general perception and that he is good enough to be in F1 on merit. However, he can only convince people by actually proving it and so far he hasn't.
He certainly impressed in qualifying at Spa...
MH: And at Interlagos. He really dug deep for both of those - he had an off on Friday at Spa and his qualifying result came out of nowhere, and at Interlagos he had been struggling all weekend, struggling against Petrov, and then when he had to put his neck on the line he pulled out a great result. So that is very impressive. There's something there...it's just a question of how accessible is it for him.
In what way?
MH: The question mark is that he had eight races and he was never able to put a full weekend together. Sometimes that wasn't his fault; sometimes that was his car's fault. But you would think that in eight races he would put one together -and he didn't.
And finally, what was your take on Lewis last season?
MH: There's always been an exciting what-is-he-going-to-do-next? element to Lewis - it was there even in his junior days and his reputation is in part founded on his ability to rescue triumph from the jaws of disaster - but last year was different. The consistency of performance, for the first time, just wasn't there and it was replaced, on occasion, by questionable judgement. Whether that was due to factors outside of the car affecting him, I couldn't say. But he was not at an equilibrium last season.
The highs were as high as ever and he is still capable of that devastating level of performance, but, like with Bruno, you have to be able to access that potential and level of performance. Last year was the first time when he didn't; it was very hit and miss.
With too many literal hits...
MH: Absolutely. There's certainly some big questions now to be answered.
To my mind, he's still the most exciting performer on the grid and I still think he's the most gifted of them all. But he needs to be more than that. It's a big year for him.