Live football on Sky!
Live fixtures announced!
Last Updated: 12/07/11 3:05pm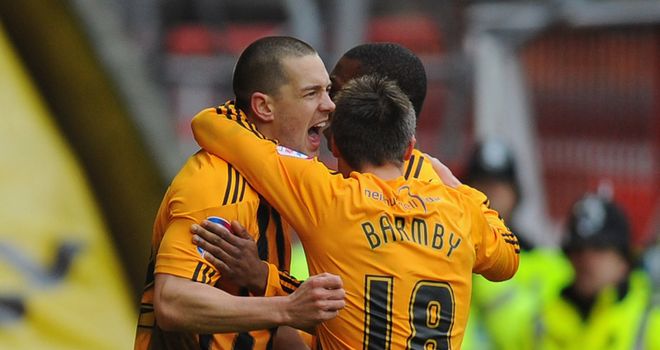 Formula 1 Betting

Formula 1 Betting

Bet with Sky Bet
Sky Sports will broadcast Hull City v Blackpool as the first npower Football League match of the new season.
The match, which kicks off at 7.45pm on Friday 5 August, will be the first of up to 80 live npower Football League games to be shown on Sky Sports HD this season including the Play-offs and all three Play-off finals from Wembley.
In consultation with the Football League, Sky Sports has confirmed several live matches for the opening months of the season. Further live matches will be announced as they are confirmed.
The live fixtures confirmed include:
Hull City v Blackpool - The Seasiders face Hull City in their first game back in the Football League - live on Friday 5 August.
AFC Wimbledon v Bristol Rovers - Newly promoted AFC Wimbledon face Bristol Rovers in their first ever Football League game on Saturday 6 August.
Southampton v Leeds United - Newly promoted Southampton face Leeds United at St Mary's Stadium on Saturday 6 August.
Live football will also be available to view on PCs, laptops, mobile and tablet devices free of charge for Sky TV customers with Sky Sports thanks to Sky Go, a new service launching next month.
The line-up of live matches includes The Barclays Premier League, UEFA Champions League, npower Football League, Carling Cup, Scottish Cup, Clydesdale Bank Premier League, Northern Ireland's Carling Premiership, Spain's La Liga and various international fixtures including Euro 2012 qualifiers.
The live coverage is supported by a range of football shows, covering every day of the week, including Soccer AM, Gillette Soccer Saturday, Goals on Sunday and Sunday Supplement.
The live televised fixtures confirmed are:
Fri 5th August
Hull City v Blackpool
7.45pm
Championship
Sat 6th August
AFC Wimbledon v Bristol Rovers
12.45pm
League 2
Sat 6th August
Southampton v Leeds United
5.20pm
Championship
Tue 9th August
Leeds United v Bradford City
7.45pm
Carling Cup
Thu 11th August
Sheffield Wednesday v Blackpool
7.45pm
Carling Cup
Sat 20th August
Peterborough v Ipswich
5.20pm
Championship
Sun 21st August
West Ham v Leeds
1.15pm
Championship
Sun 28th August
Nottingham Forest v West Ham
1.15pm
Championship
Sat 3rd September
Swindon v Rotherham
12.15pm
League Two
Mon 5th September
Charlton v Sheffield Wednesday
7.45pm
League One
Sat 10th September
Coventry v Derby
5.20pm
Championship
Sat 17th September
Southampton v Birmingham
5.20pm
Championship
Fri 23rd September
Brighton v Leeds
7.45pm
Championship
Sun 25th September
Cardiff v Leicester
1.30pm
Championship
Sat 1st October
Nottingham Forest v Birmingham
5.20pm
Championship
Fri 14th October
Doncaster v Leeds
7.45pm
Championship
Sat 15th October
Portsmouth v Barnsley
5.20pm
Championship
Sat 22nd October
Reading v Southampton
5.20pm
Championship
Sat 29th October
Burnley v Blackpool
5.20pm
Championship
Sun 30th October
Leeds v Cardiff
1.15pm
Championship
Sat 5th November
Middlesbrough v Watford
5.20pm
Championship