Craig Mackail-Smith, Kevin Davies and Guy Branston on stepping down the leagues and muddy pitches
Craig Mackail-Smith, Kevin Davies and Guy Branston talk wet weather and stepping down the leagues.
Last Updated: 13/02/14 12:28pm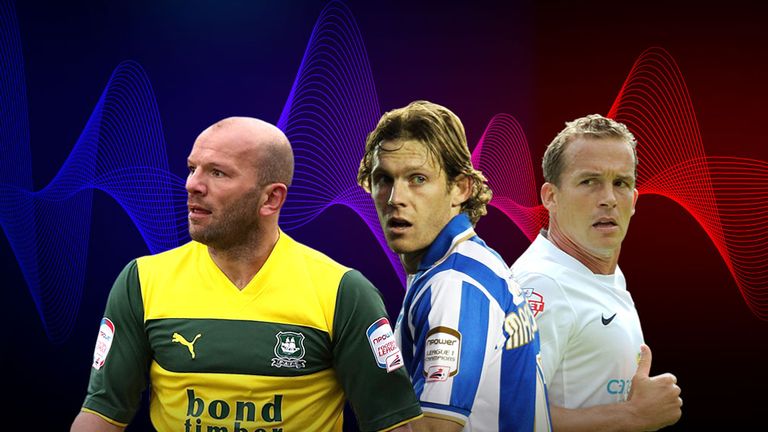 As well as a weekly blog from Leicester striker Kevin Phillips, we will also be speaking to some other seasoned campaigners in the Football League.
Brighton striker Craig Mackail-Smith, Preston frontman Kevin Davies and Plymouth Argyle defender Guy Branston - who all appear on Sky Sports News Radio's Football League Hour - will be chatting to us about all manner of footballing issues.
The UK has faced some terrible weather this month and football grounds across the Sky Bet Football League have been suffering. This week we asked our bloggers about playing on boggy pitches and the changes they've seen as they've moved up and down the leagues from cleaning boots to picking up dog muck...
CRAIG MACKAIL-SMITH
A few years ago when I was at Peterborough we played Accrington at home in torrential rain and I don't know how the game stayed on but we managed to win it 8-2!
We were slogging it all over the place, everything we were hitting was going in it was insane, I scored two goals so I was happy.
At the moment at Brighton we share the University's gym, pitches and training facilities because our new training ground is being built and will be ready for this coming pre-season.
It's state-of-the-art and designed by the same people who built Tottenham's new one. It's going to have hydrotherapy pools, 3G pitches, a 4G indoor pitch and some will be the same specifications as the Amex Stadium. I think it's going to be one of the best training grounds in the country; we're going to be very spoilt.
At the moment with the weather we struggle to get on to the pitches at the University because they need to use them as well and we're often running backwards and forwards from different places to train.
Over the years the game has changed a lot and the young players don't really clean the boots and the changing rooms any more, which I do think is a shame because it's a good introduction to what they need to do and makes them realise they have to graft to get in to the game.
Young players are given everything these days, lots of money and not a lot of responsibility.
Most players do a YTS (Youth Training Squad), but I never did that and I was never at an academy. I came through non-league football clubs like St Albans when I was really young, so I've never really had to clean boots or look after the pros. I'm lucky in the way I came through football but I had to work really, really hard to get there and I've had that ethic instilled in me.
KEVIN DAVIES
You get used to playing in the rain and the snow. In Bolton where I live on Tuesday we had all the seasons in one hour; it was clear skies, then wind, sleet and then it sort of snowed . I always have a joke with my wife - when she says she's cold I remind her that I run around in my shorts and t-shirts in freezing weather all the time!
The higher you play, the better condition those facilities tend to be. At Bolton we had under-soil heating for the training pitches but at Preston it's obviously quite different; I put some new boots on yesterday and they were trashed by the end of training.
I started my career in League Two and I feel quite fortunate for that and the way I was brought up on a scholarship. If you are lucky enough like I was to move on to club like Southampton you feel spoilt by what you've got, let alone how fortunate I feel to spend that many years in the Premier League.
When I started at the age of 16 at Chesterfield we didn't even have a training ground, there was no breakfast beforehand, we used to have to run two miles to a public park and sometimes we couldn't get on there because there was a bunch of kids on there and we had to try and kick them off. Then as one of the Youth Training Squad I used to have to scour the pitch to see if there was any dog poo on the ground and get that off before you even started training.
I'm grateful that I worked my up that way. You see these top young players these days that have their own player liaison from the age of 16 which is ridiculous and they don't have to do anything for themselves half the time, whereas I had to look after the pros.
The young guys are getting their boots cleaned for them now, when they're supposed to be cleaning our boots. We do that ourselves as pros now and of course I don't mind it but I think this spoiling can mean the younger players find it hard to drop down to the lower leagues, never mind taking their own kit home to wash like they do at Blackpool.
If you speak to a lot of pros my age and before they'll say they hate the fact that the scholars don't have to do any of those jobs any more and I think it's important because it keeps you grounded, it stops you from getting too big time. I understand they want them to have more time out training, but a good grounding is just as important and if that means cleaning the toilets and the looking after pros then so be it, it's all about learning the trade.
GUY BRANSTON
Our ground is in great condition considering this wet weather but the training ground is a joke and we've had to go to different places to train. Thankfully the ground staff have wasted no time in trying to sort it and fix it.
At Torquay they call a lot of games off when it rains because it gets really badly hit because it's sits at the top of the town. Sometimes it got hit with so much water that they've had to call the games off and that's with it at the highest point of the town.
Rotherham used to have a really big slope at Millmoor which made it a hard surface to play on and the water used to pool at the bottom of the pitch.
Mind you I played on some non-league pitches when I was at Kettering that shouldn't have been called football pitches! I played at Blyth Spartans in February/March time and it was like a marsh and that was after playing at Swansea's Liberty Stadium just a few months before.
As a player when you move down the leagues coping all depends on your mental strength and capacity to handle to the situation. You can think you've been hard done by and sit there and not be very happy about dropping down, or you can go into the division and relish the opportunity to play football and get on with it.
If that's a level that you can express yourself a bit more then you'll only progress. If you go there with your tail between your legs thinking you should be playing in the league higher then you won't get that progression.
Don't forget to tune in to the Football League Hour every Thursday night at 7pm on Sky Sports News Radio or download the podcast here