Football Expert & Columnist
Kevin Phillips: Leicester desperate to beat Burnley to Championship title
Last Updated: 27/03/14 12:06pm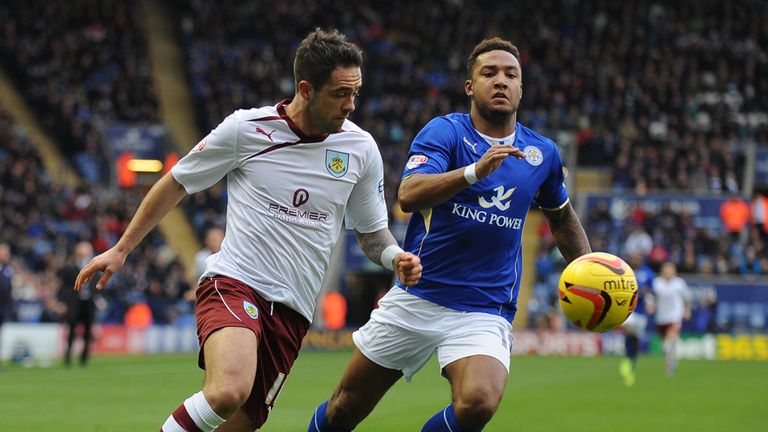 Our priority at Leicester is promotion to the Premier League but we want to win the Championship – and on Saturday, against second-placed Burnley, we can give ourselves a great chance of doing that.
Leicester haven't been in the Premier League for a very long time and with us currently 13 points clear of the play-off places with nine games to go we're close to achieving that goal.
However, the boys have played so well all season and been top of the league for a long time, to not win the title as well would be a blow. 
I'm sure there'll be a few more twists and turns between now and the end of the season but if we can get a good result at Turf Moor and go six clear with eight games to go, that will set us up well for the next eight games, which come pretty quickly between now and the end of the campaign.
It'll be a tough match, though – as it always is at Turf Moor – and there'll be a cracking atmosphere there.
This game has been teed up perfectly. It's an early afternoon kick-off, live on Sky, there are three points between us plus our game in hand, which is away at Wigan, and it's all gearing up to be a fantastic spectacle.
Both teams are playing good football and players in both sides are scoring goals. Up front for Burnley – although Danny Ings may still be missing – Sam Vokes is on fire, and our two boys, David Nugent and Jamie Vardy have been scoring lots, too. It's going to be a game for the strikers.
The question is, with us both being so clear ahead of QPR, do we both go for the throat and go for the win to try and boost our title chances?
We'll certainly go there to win the game but we won't go all guns blazing. We'll have to be sensible because we know they've got a lot of threat in their team and good players who can hurt you.
I actually expect it to be a tight affair, similar to what it was like at the King Power in December. I remember watching that on Sky before I joined Leicester and there was not a lot in it. I predict it will be the same this weekend.
Burnley are the home team and will come at us and we'll expect that and set up to be hard to break down. But with the pace and the trickery we've got in the team we'll try to hit them on the counter. It will be an interesting affair.
Surprise
Being totally honest – and even people in Burnley will agree – before the season started I'd never have envisaged seeing them sitting second in the league, three points off the leaders with nine games to go with a healthy lead over QPR in third.
Sean Dyche has done an unbelievable job. He's had limited resources so the players he has brought in he's brought in wisely and he's got a system there that's working.
Kevin Phillips
Sean Dyche has done an unbelievable job there. He's had limited resources so the players he has brought in he's brought in wisely and he's got a system there that's working.
I always believed the key to getting promoted out of the Championship is finding a player up front who can get you 20-odd goals – and if you can find two of them that's even better. But also keeping clean sheets is key, and the two centre halves at Burnley are experienced players. That's the basis of a good side and Dyche deserves all the credit he's got.
Earlier in the season some pundits were suggesting Burnley didn't have enough strength in depth to maintain their good start to the season but they've proved those critics wrong.
They've been fortunate with injuries but from experience I can tell you when you're winning games week-in, week-out, any players with slight knocks might miss a couple of days of training but they won't want to miss a single game.
Dyche is obviously managing the squad very well, too. He's clearly not over-training them, getting the balance right and it's paying off.
A lot of people would have thought they might stutter a little bit with Ings not playing in the last few games as well, but once again they've stepped up to the plate and continued to get results. That's testament to Dyche and his players.
Prepare
We go into this big game on the back of a 1-1 draw at home to Yeovil on Tuesday night.
In the end it was a great finish to the game, with Chris Wood sticking the ball in the net to equalise for us in injury time after Kasper Schmeichel looked to have headed it in. (Kasper is trying to claim it but I can't see it being re-awarded now!)
We'd have liked to have wrapped it up earlier but hopefully that will turn out to be a good point. It's kept our unbeaten run going and that's stretched to 18 games now, which, in the Championship, where anybody can beat anybody, is very good.
Nigel Pearson, our manager, was in hospital over the weekend but back in charge for that game and we certainly tested his health in those final few minutes. However, he was very upbeat after the match and hopefully we can take that positivity into the weekend.
We'll talk about Burnley at training this week but at the end of the day it's about what we do. We know our starting XI can beat anyone and hopefully we will get the good result we need to give us a great chance of taking the Championship title.