Football Expert & Columnist
Niall Quinn looks back on an enthralling Champions League
Niall Quinn blogs on Saturday's Champions League final and looks back on an enthralling campaign.
Last Updated: 22/05/13 11:18am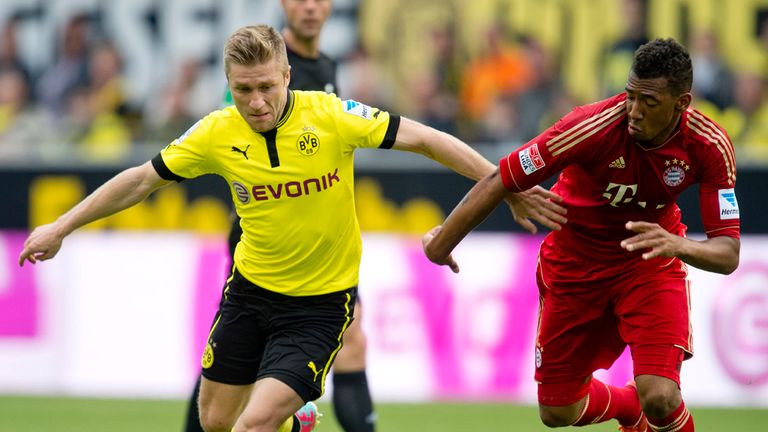 From Munich to Manchester and Donetsk to Dortmund, the action has come thick and fast, and it looks set for a thrilling climax when German rivals Bayern Munich and Borussia Dortmund clash at Wembley on Saturday night, live on Sky Sports 1 HD.
Ahead of the showpiece skysports.com spoke to pundit Niall Quinn about his thoughts on the final and got his take on a dramatic Champions League campaign...
Saturday's Champions League final is an all-German affair - are we witnessing a dawning of a new era of dominance for German clubs?
I think it's a bit easy to form the opinion that German clubs will lead the way for the next few seasons. We had two English teams in the 2008 final and that didn't suddenly mean Barcelona folded up their tents and headed off. They won two of the next three titles and what you might find is that two or three of Bayern or Dortmund's better players could end up at one of the bigger clubs in England or Spain.
Bayern are looking to win the game at the weekend and continue their domination of the Bundesliga. To do that they have to reinvest and they've already started with the signing of Mario Gotze.
It's brash, positive thinking by Bayern and it signifies their intentions, but Manchester City will have something to say about buying the best available players during the summer. Manchester United and Real Madrid will also be looking to strengthen and get back on track, so I'd be very surprised to see two German teams contesting next year's final.
Bayern finished 25 points ahead of Dortmund at the top of this season's Bundesliga - do Jurgen Klopp's side stand a chance?
I don't think we can put this down to league form and say Bayern Munich are the better team. There are a number of other factors that need to be considered.
When Arsenal went to Bayern Munich for the second leg of their last-16 tie we thought they'd get nothing, yet they were comfortable winners on that night and unlucky not to progress. We should consider that game when it's suggested that Bayern Munich are all-conquering.
I nailed my colours to the mast long before the end of the group stages - Bayern looked very impressive. It was like watching the German national team from the 1970s; they were so efficient and overpowered teams with not just skill, but with strength and organisation. They've brought it to a new level. If they can find that form on Saturday it will be very difficult for Dortmund.
I think tension will creep in though. When you get that close to such a big prize, I don't think every player will produce their usual eight out of 10 performance. There will be one or two who have poor games; it happens in every cup final.
But will an early Bayern goal leave Dortmund with an insurmountable task?
The early goal is critical in every game - you go and watch a pub game on a Sunday and the first goal is important - but it's of huge significance in a game between two teams from the same country. It will be a crushing blow if Dortmund go a goal down, because that will result in the Bayern Munich juggernaut getting into gear.
My sense is that if Dortmund get the first goal, I wouldn't be saying that they're going to go on and win the game. However, I think I would if Bayern score first. That's the difference between the teams.
There have been a number of enthralling games in this season's Champions League - which ones stand out for you?
The second leg of the Dortmund v Malaga tie stands out because it was so heartbreaking for the latter. Look at where Dortmund are now; Malaga will feel it could easily have been them.
Manchester City's 3-2 defeat at Real Madrid was also memorable; City's whole season went wrong that night. The second leg of Manchester United's meeting with Real Madrid and the inexplicable decision of referee Cuneyt Cakir's to send Nani off and turn the whole tie Madrid's way was a defining moment. They were just three of a number of games that I enjoyed.
It's been a disappointing season for English clubs - where did it all go wrong?
It's a pity that with the final being at Wembley, there is no English team involved. There has always been one club that goes well each season but it didn't happen this year.
Manchester United cruised through their group and looked set to have a big say in the tournament, but a key refereeing decision cost them. Chelsea conceded a late goal in the group stages at home to Juventus and that was their undoing. They never recovered from that.
An abject home performance against Bayern Munich cost Arsenal. They were superb in the second leg, though, and it was disappointing they didn't progress. Manchester City imploded in the last couple of minutes against Real Madrid. Roberto Mancini publicly slaughtered Joe Hart; they were on the back foot and never recovered.
We're spoilt for choice when trying to pick the best goal from this year's Champions League - but what would you go for?
Never mind the whole competition, some of the goals in the first legs of the semi-finals were ridiculously good. It really was exhilarating stuff; sometimes it was hard to catch your breath.
If I was forced to pick one I would have to go for Robert Lewandowski's third goal in the 4-0 win against Real Madrid. With two sublime touches he made space for himself and then hammered the ball into the top corner.
Watch the Champions League Final live on Sky Sports 1 HD from 6pm on Saturday