Football Expert & Columnist
Niall Quinn says Dortmund risk Real Madrid counter if they attack too much
Niall Quinn says Borussia Dortmund may come unstuck if they attack Real Madrid with too much verve.
Last Updated: 24/04/13 7:31am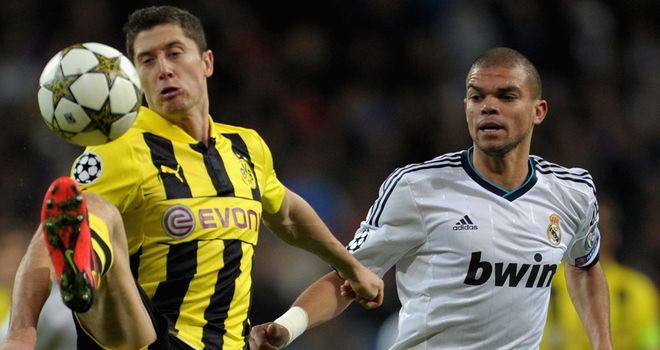 That night really sticks in my mind because they looked so at ease against Manchester City and were only denied the victory by a late Mario Balotelli penalty. Since then they have gone on from that and have looked good in their progression to the semi-finals.
Of course, they took four points off Madrid in the group stage, but you can't read too much into that. It has relevance in that players will understand their opponents a bit better, but now it feels like these are two racehorses in the final furlong and their form in the early part of the race doesn't matter quite so much.
Dortmund have a very strong manager in Jurgen Klopp and the late comeback against Malaga tells you everything about the personality within the squad. Who would have thought they could drum up the inner belief to score two injury-time goals and turn things around?
Some may look on that as a lucky escape, but when a team does something like that they will be determined to go out and prove what they can do in the next game.
Dortmund always play at a great tempo that creates opportunities for players like Robert Lewandowski to score, but I just think it might be set up for Real Madrid to get a goal on Wednesday night.
It will be interesting to see how Dortmund approach this first leg. Will they go out and try to win the first game? You'd think their best chance of reaching Wembley is to win the home tie, but they mustn't leave them exposed to Real Madrid on the counter-attack.
Jose Mourinho's side can do anything and you wouldn't be surprised to see them score twice in the first 20 minutes inside the Westfalenstadion because of the quality and pace in the side.
Time after time this season we've seen them launch an incredible attack out of almost nothing and I wonder if Dortmund can do enough damage to prevent those chances.
Real Madrid are past masters at slowing the game down, dictating the play and even when it looks like they are under the cosh they can find a breakthrough - largely because they have some of the best and quickest players in the world.
It's not just about Cristiano Ronaldo either. They have energy, speed of thought and speed of passing throughout the side - and they have great strength at the back as well. Lewandowski will get very little change out of those wonderful defenders and will have to earn every chance he gets.
It's a real dilemma for Klopp. Dortmund need to win the first leg and their strength is going forward, so do they throw everything at it? For me the answer is no. If they look forward too anxiously then they will be picked off.
But at the same time they must not be over-cautious either and play to their own strengths. It should be a fascinating tactical battle between two great managers.
I can't see Real Madrid, given what they have in their team, failing to break away and score goals. Dortmund showed great spirit and belief against Malaga, but I think this will be another difficult night for them.
NIALL'S PREDICTION: Dortmund have enough to scrape a draw, but I'm favouring Real Madrid to turn it around in the second leg.
See Borussia Dortmund v Real Madrid live from 7pm, Wednesday, Sky Sports 2 HD and follow Interactive Commentary from the stadium at www.skysports.com/championsleague
Read Niall's verdict on Bayern Munich v Borussia Dortmund here.