Football Expert & Columnist
Niall Quinn says Arsenal players owe it to Arsene Wenger to find way of staying in Bayern Munich tie
Niall Quinn is struggling to see how Arsenal can beat Bayern, but is tipping a hard-fought first leg draw.
Last Updated: 18/02/13 3:54pm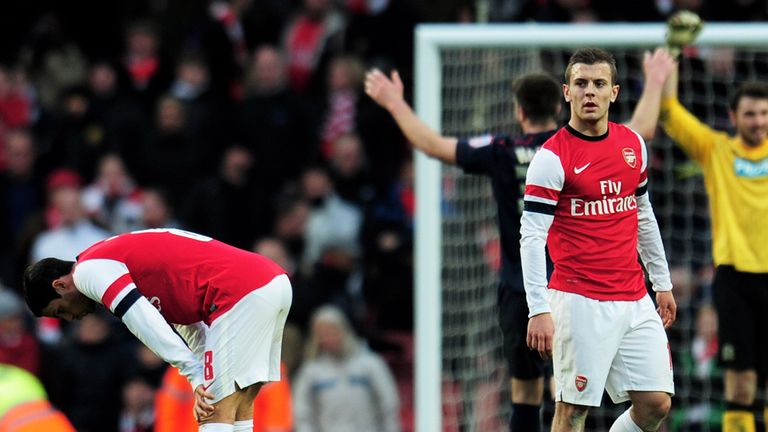 The Champions League will always be bigger than the FA Cup for Arsene Wenger and should things go very well on Tuesday night then the weekend defeat will be quickly forgotten - but there's no doubt Saturday's result will have an impact and their opponents will have enjoyed seeing that scoreline.
Arsenal were tamely beaten by a lower league team and that has to hurt. They go into this game on a low in contrast to Bayern who are in the middle of an exciting period and are one of the favourites to win the whole competition.
The beauty of football is that anything can happen in 90 minutes, but if you were to ask me if Arsenal can turn on a Rolls Royce performance and do enough in the first leg to win this tie, I would have to say no.
The form suggests that simply staying level with Bayern in this first game would be a decent outcome - and a 0-0 draw would not be a bad result for them at all. It's imperative for Arsenal that the first leg doesn't end as a Bayern victory and in some respects a clean sheet - preventing their opponents from scoring an away goal - is crucial to their hopes of staying alive in the tie.
It's not going to be easy against one of the best sides in Europe and, especially after the weekend, a question mark has to be raised over their ability to stop their opponents' scoring.
Arsenal are not geared up to play that way most weeks. Jack Wilshere and Santi Cazorla are not exactly defensive players who protect the back four; their role, especially at home, is normally to probe, create and open up other teams. The question is can they do that and still provide their defenders with enough protection against an exceptional Bayern attack that is bristling with confidence?
So there's a double emphasis here for Arsenal. There's an emphasis to keep a clean sheet and there's the emphasis to create enough at home to give themselves a realistic chance of winning the overall tie. That is going to be very difficult and it would be a tough assignment, even if they'd won 5-0 at the weekend.
It will be interesting to see how adventurous Bayern will be and how willing they'll be to try to capitalise on Arsenal's perceived lack of confidence. If they go for it then they could ensure this match fizzles away from Arsenal.
But Arsene Wenger has surprised us many times over the years and I would never write off an Arsenal side. This is an opportunity for him to prove his doubters wrong and after all he's done, I hope his team puts in a performance that will make him proud. He's turned many of those players into household names and they need to pay him back on Tuesday night and keep their hopes of a trophy burning.
My hope is that they are still in the competition at the end of this game and have the possibility of going to Germany in March and producing a rearguard action. If they can keep a clean sheet and find a goal in the first leg it would be a very good outcome.
In terms of calling it, I'd go for a draw at best - and that's said more with fingers' crossed than with expectation. A draw would be a hell of a result and if they can keep a clean sheet it would be even better for them at half-time in the tie.
It's a daunting task and it's time for those Arsenal players to step up to the plate and deliver on behalf of their manager.
This week's other Champions League games
AC Milan v Barcelona (7pm, Wed, Sky Sports 2 HD) is one of those mouthwatering fixtures that gets the pulses racing. We can dream of a 3-3 draw, but we're likely to see a steady, resolute performance from Milan who will be hoping to nick a 1-0 to take to the Nou Camp in March. It will be a tactical battle and I wonder how attack-minded Barcelona will be away from home and how much Milan will look to hit them on the break. I expect Barca to be adventurous, to commit numbers and the result will hinge on their ability to break Milan down and withstand the breakaways the home team will possibly play for. I'd give Milan enough credit to say they're one of a few teams that could hold off a Barcelona onslaught and I think they have a chance of getting a draw. Barcelona won't find it as easy as they have in some of their previous matches, but I am calling a draw in this first game and then I think Barcelona will come out on top overall.
When you look at Porto v Malaga (7pm, Tue, Sky Sports 2 HD) then you would have to go for a Porto victory all day long - but Malaga have surprised everybody at times this season, so I tread carefully when I think about writing them off! However, the business end of the tournament is the time when the better teams kick on and I think Malaga would find it difficult to stay alive over the tie. I would back Porto to take a strong lead into the second leg.
Galatasaray v Schalke (7.30pm, Wed, Sky Sports 4 HD) is an interesting match. Galatasaray is a club that is re-emerging as a powerhouse both in their own country and in Europe and they are up against a Schalke team that has been struggling in the German league. I watched Galatasaray earlier in the tournament and they have a strong, physical presence in their team and in front of their home fans I think it will be difficult for the German club to hold on. With the way things are going for them, I don't think they can keep Galatasaray at bay and I see the home team doing enough to take a lead into the second leg.