Football Expert & Columnist
Niall Quinn previews the British clubs' Champions League ties
Niall Quinn says Arsenal must up their game if they are to get anything out of their trip to Schalke.
Last Updated: 05/11/12 4:12pm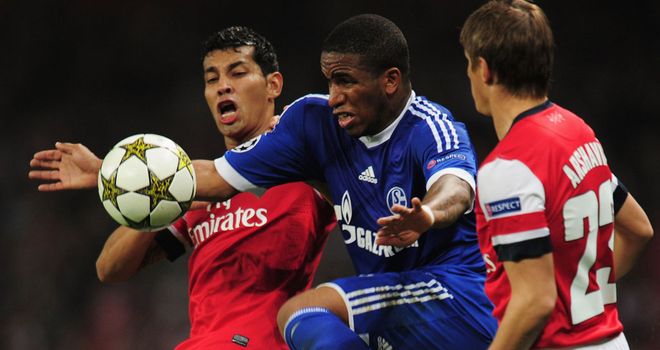 Arsenal, Celtic, Chelsea and Manchester City will be aiming to avenge their recent defeats to Schalke, Barcelona, Shakhtar and Ajax respectively while Manchester United have the chance to do the double over Braga and cement their place at the top of Group H.
City's need is greatest; their hopes of staying in the competition hang in the balance and boss Roberto Mancini has admitted 'I don't think we're ready to win the Champions League".
But Sky Sports pundit Niall Quinn says City fans should have some cause for optimism. Here's his take on how the British contingent might fare...
Schalke v Arsenal, 7pm, Tue, Sky Sports 2 HD
I know I wasn't the only person concerned by Arsenal's performance at Old Trafford on Saturday - as has been highlighted by many onlookers, it was an abject display and as such one that was pretty alarming. Losing is one thing but the manner in which the players seemed simply to accept that United were the better team was disappointing and there's no doubt that they need to work on their application, starting with the trip to Schalke.
Arsenal players have always played for the shirt and early on in the season, at Anfield and the Etihad in particular, the team's spirit looked great and the work-rate was first-rate, but you'd have to question just how good it was at the weekend. They can't afford a repeat showing at the Veltins Arena, where Schalke will be out to strengthen their grip on Group B.
As Schalke proved at the Emirates when Klaas-Jan Huntelaar and Ibrahim Afellay did the damage, they are a strong, pacy and economical side. Their all-round organisation impressed me a lot; they are difficult to break down at one end but have more than enough ability to overrun you at the other unless you can match them. They are a very, very decent football team - the spine of their side is strong and Arsenal will have their work cut out to deal with them.
NIALL PREDICTS: My faith in Arsenal's ability to go to Germany and deliver has been knocked a bit after these last couple of difficult weeks. A draw might be as much as they can get.
Man City V Ajax
As a player it's never great to hear the kind of comments that Roberto Mancini came out of after the 0-0 draw at West Ham. I doubt whether they sit too well with the owners or the fans either. While there is still a chance - however slim - of them getting through to the next phase, I don't think he should write off anything, including his team's chances of winning the title. To me it sounded as though he was trying to make excuses already, which I don't like.
There have been plenty of managers over the years who have tried to fool opposition teams and the media by writing off their side but I don't think Mancini is trying to do that. It sounded like a genuine concession ahead of what is a big game. They should be looking at it as their most important game of the season.
It's only a few months since City won the Premier League title and back then they looked ready to kick on in Europe, but fast forward to November and they appear all but out. They are still just about alive but if the man at the top is conceding defeat, then I expect a few of the players are scratching their heads which doesn't sit well going into this game.
Nevertheless, if they win on Tuesday it will give everyone a huge lift and certainly their home record in Europe has been particularly solid. They've got to put Saturday's frustrating draw behind them, though. I'd like to see them organise well as a group. So far they've played in the Champions League with a bit of fear - Dortmund tore them apart because City sat back and admired them a little bit. In the Champions League you can't afford to drop off and let the opposition dictate the pace of the game, especially at home.
City owe their fans a Champions League performance of the highest order but it will be tough against an Ajax side who went to Manchester United last season and won. Everyone knows Frank de Boer's side has a way of playing which means on their day they can live with anybody.
NIALL PREDICTS: That said, I think City will get their act together and get that victory on the board.
Celtic v Barcelona, 7.30pm, Wed, Sky Sports 3 HD
Wednesday will be a night to behold for anybody involved with Celtic. I'm sure the atmosphere will be great and be a major help to the side and as the players showed in Spain, where they put in a real heroic performance, they won't shirk responsibility or pass up the chance to have a go. After that, they need a lot of lady luck and Fraser Forster will need to play well again! They've got to try and keep the game alive for as long as they possibly can.
Celtic offered such stubborn resistance at the Nou Camp that I'm sure Barca have been working on ways to break down Neil Lennon's men more effectively. They may well succeed, but to do so Lennon will need to have as many of his walking wounded back as possible.
Barca have their own injury problems to address, most noticeably the fitness of Lionel Messi who took a bit of a kick on his right knee at the weekend. If he doesn't make it I suppose it will feel as though there's something missing at the party, if you like, but from the point of view of Celtic getting a result it can only help.
Celtic's performance in Moscow was first class and I thought they were extraordinary in Barcelona. It's a real tough ask for them to pull another performance of that magnitude out of the bag, but I really hope they acquit themselves well. It's a wonderful opportunity for the players to impress, particularly the front men, and if you score against Barcelona then you're back in dreamland.
NIALL PREDICTS: It's a real appetising match and I hope that Celtic win the game but at the risk of sounding over cautious I'd have to say a Barcelona win is the most likely outcome.
Chelsea v Shakhtar, 7.30pm, Wed, Sky Sports 4 HD
Chelsea began the season at a blistering pace but it seems as though the varied problems they've encountered (or rather had to deal with) off the field are taking their toll. Manchester United won the most important match of last week's two meetings - the league game - although Chelsea did well to battle back in the Capital Cup One to progress to the next round. But it looked as though they were suffering from a bit of a hangover at the weekend and Swansea capitalised on that.
They have to leave all of that behind them now because Wednesday's match is an entirely different scenario. The defending champions are second in their group but only have four points from three games to their name, meaning they have to get a result against the side that turned them over in Europe only a couple of weeks ago.
Roberto Di Matteo will recall the players he rested for Saturday's draw - most noticeably Juan Mata - to try and ensure that Chelsea's campaign gets back on track again. The trouble is that Shakhtar fully deserve the plaudits that have been coming their way. They certainly dictated the pace of the game in that 2-1 win in Donetsk. They brought the game to Chelsea and the Blues couldn't cope at times; it should be a different story at home, though. It has to be.
NIALL PREDICTS: Chelsea rarely drop points at home in the group stages and I think they can turn that dominance into three more here.
Braga V Man Utd, 7.30pm, Wed, Sky Sports 4 HD
I'm going out to Braga to cover this game and I'm really looking forward to it. United may not be quite playing to their best but they are top of the Premier League and look as if they are going to progress through to the next stages of the Champions League - probably in top spot. That's the sign of a good team. I think United are only going to get better and given their position in the Premier League they'll rightly go into the game full of confidence.
Braga aren't mugs - they've showed as much with those two quick goals at Old Trafford - and in some respects this could be a tough game. The onus will be on them to win it but I just think United are beginning to show now that they can deal and cope with difficult situations.
Braga played a high-tempo game at United and I'm convinced they'll try to do the same at home. Before Jonny Evans equalised, United huffed and puffed for long enough for me to wonder if they would get back on terms; it was a brave performance by Braga and Jose Peseiro's side certainly won't be also-runs in this match. Indeed they'll be a tougher nut to crack if they get their noses in front again.
NIALL PREDICTS: I fancy United to get at least a draw, which is certainly good enough in their position, but they should be superior enough to come away with a win.
Don't forget to tune in to our interactive commentary with comment from the Sky Sports experts and access to the games via our Events Centre by visiting www.skysports.com/championsleague