Football Expert & Columnist
Gunner be too strong
Niall Quinn says Arsenal, Chelsea and United will win in Europe but Celtic and City will struggle.
Last Updated: 17/09/12 2:18pm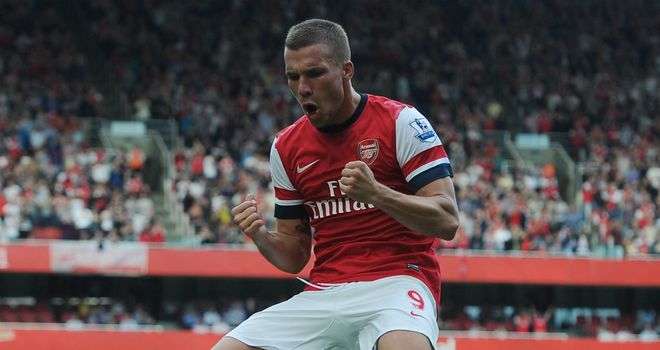 The Champions League is back this week - and the fixture list has thrown up some eye-catching matches.
Our Matchday1 coverage begins at 7pm this Tuesday on Sky Sports 2 HD when Arsenal make the trip to Montpellier.
You can also see the Group C clash between AC Milan and Anderlecht, on Sky Sports 4 HD, with five other matches also available on the red button or online. Full coverage details.
To kick things off, Sky Sports expert Niall Quinn talks us through the tasks facing Manchester City, Arsenal, Chelsea, Manchester United and Celtic and offers his predictions.
Read Niall's views - then let us know your opinion via the comments box...
Montpellier v Arsenal
7pm, Tues, Sky Sports 2 HD
Arsenal have had a bright start to their Premier League campaign and their experience in these situations will count. It is always tough starting away from home because you want to at least come away without losing. Montpellier will be really up for it. It is an exciting game for them and probably the biggest in the group for them as well. It will be a partisan crowd and they will be out to cause a shock.
But Arsene Wenger is very experienced in dealing with ties like this. What I like about Arsenal this year is that defensively they look far more sound. Their back four has impressed and that will stand them in good stead for what looks like on paper the trickiest game they have had so far in all competitions. They will be called on to come to the team's aid more often than perhaps they have so far. I like what Steve Bould is doing and his influence in how they are defending as a unit.
Montpellier are emerging but one of their better players in that rise is now with Arsenal - Olivier Giroud. I'm happy that Arsenal are playing well enough to get a result. If, as I expect, the back four holds up and is protected well enough, the longer the game goes on I expect Arsenal to go on to get the victory.
NIALL PREDICTS: Arsenal win
Real Madrid v Manchester City
It is going to be very difficult for City. Jose Mourinho is not happy with his team at the moment, which would be a plus for City. But he is also a past master of playing the media game to suit him and his side so Man City can't get carried away with that.
Man City - who were unlucky last season not to progress to the knock-out stage after amassing so many points - are up against it but they have the tag now of champions of their country. It is a new type of performance required from City and I expect a more defensive line-up from them.
They are used to playing away from home in the Premier League and taking the game by the scruff of the neck. But they will have to be a lot more patient in this game and a lot more defensive minded. It will be difficult for them and if they come out of this game with a point it will be fantastic.
Real Madrid are so used to getting a result in this type of game, I think it will be really difficult for City to contain them. There is hope for City but I think Real could be too strong.
NIALL PREDICTS: Real Madrid win
Chelsea v Juventus
6pm, Wed, Sky Sports 2 HD
Chelsea go into the match with the swagger of being champions of Europe. I think this could be a defining year for Chelsea; can they build on their Champions League success? And can Fernando Torres take up the mantle and fire them through Europe?
Eden Hazard at times has looked breath-taking in his early Premier League career and it's great to see his link up with Torres flourishing. It is a different approach to when Didier Drogba was leading the attack, it is less direct and more intricate, but I think they have the quality to play that way.
Juventus will come to defend and would be absolutely thrilled to come away with a draw. They will defend in numbers and it will take all the trickery of Hazard and all the abilities of Torres and co to get through them. It is going to be a difficult tie - can you ever say there was a poor Juventus team? No, you can't - but it is one that I think Chelsea have enough in their firepower to cope.
I can see them breaking down Juventus and forcing them come out in search of an equaliser and they could capitalise even further. With the tag of champions of Europe on their back, I think Chelsea will win the game.
NIALL PREDICTS: Chelsea win
Celtic v Benfica
7.30pm, Wed, Sky Sports 3 HD
It is a great opening game for Celtic. Scottish football has taken a lot of knocks and suddenly here we are with a big Champions League game on at Parkhead, in front of what promises to be a sell-out and partisan crowd.
This is probably the most important game for Celtic for lots of reasons. They are in a quality group with Barcelona and Spartak Moscow, who are really coming strong as a team, in there as well and this represents an opportunity for Celtic to stake a claim in having a say in what happens in this group.
I know they were poor at the weekend against St Johnstone - maybe their mind was elsewhere - but they should go out and play an attacking game to get the crowd behind them to create a great Champions League night as they did in the days gone by. They should not fear Benfica. I hope the real Celtic turn up.
NIALL PREDICTS: Draw
Manchester United v Galatasaray
7.30pm, Wed, Sky Sports 4 HD
Chelsea go into the match with the swagger of being champions of Europe. I am covering this game for Sky and I can't wait. Manchester United are really hitting form now and I think this will be the start of a very good Champions League run this season.
They have got a great set of options now with how they play, which players start upfront and what systems they use. I think they are in the best shape they have been for a long time as their squad looks stronger than ever. The signings have been fantastic and they all seem to be blending in. They are starting to believe they can wrestle back the Premiership title and that it was one that got away from them last year, which will run over into the Champions League as well. United will be right up for this.
I expect them to beat Galatasaray but first and foremost they have to earn the right to win the game. United have all the experience in the world in these types of games and I think they will be dominant from the start. Galatasaray will defend in numbers and slow the game down but I expect Sir Alex to come up with the ideas and the systems and variations of play to make progress.
NIALL PREDICTS: Manchester United win