David Jones gets ready for first Saturday Night Football
David Jones is buzzing as the new season and new Saturday Night Football show are finally here!
Last Updated: 18/08/13 10:56am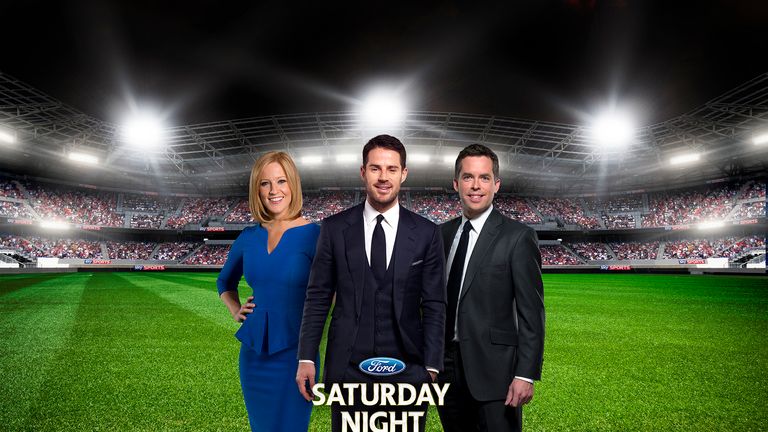 Over two weeks has passed since I presented the preview launch show filmed in our sparkly new studio and it's felt like two months!
There has been so much excitement around the Sky Sports football department this summer - and I have to say more than ever before. There is a real buzz about our Premier League coverage and not just because we are offering more games than ever before.
Footballers say a new signing can spark the dressing room and the same goes for broadcasters.
Jamie Carragher has brought with him all the experience you would expect from an ex-player so revered at Liverpool but his attitude, determination and work ethic will I'm sure make him a huge success in his new career.
Personally I can't wait to see Carragher and Gary Neville in combination on Monday Night Football. That will be purely as a viewer; my professional focus is solely on Saturday Night Football.
This season we're offering something different with our football coverage. Our fantastic new set has been painstakingly constructed through these long summer months and is now ready for action.
Each week we'll be on air at 2.30pm with a comprehensive round-up of all the day's team news and talking points. Then it's over to Jeff Stelling and Soccer Saturday at 3.00pm before we return at 5.00pm bringing you live reaction to the earlier matches before building up to our own live game.
Jamie Redknapp will be our regular guest though expect some big names by his side as the season goes on - and all in front of a live audience. Sarah-Jane Mee will be with us as well, keeping tabs on the views of our crowd and then hosting our Game Of The Day each Saturday at 8.00pm.
And what a start for us - David Moyes first game in charge of Manchester United live at Swansea. Moyes couldn't have had a more demanding start with Swansea's European adventure guaranteeing them a competitive sharpness already.
There will be no room for sluggishness among the champions - or indeed us in the studio!
Not got Sky Sports? You can watch Sky Sports 1 for free this Saturday - including Swansea v Manchester United on Saturday Night Football. Click here to find out how you can see it.