Brad Friedel, Craig Gordon and Dean Kiely to discuss keeping on The FF Show
David Jones considers the demands on shot-stoppers, ahead of The FF Show goalkeeper special.
Last Updated: 27/03/13 2:17pm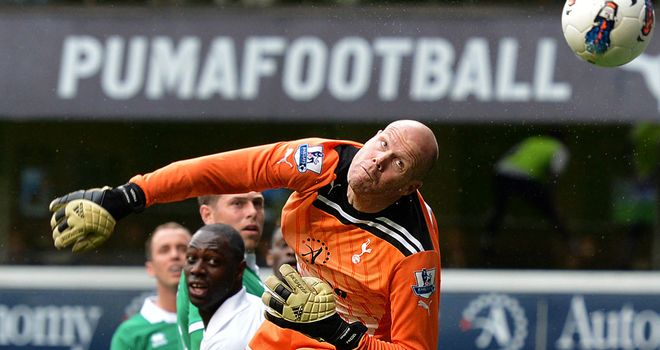 At my school, we looked first for the kid who was going to fill a five-a-side net and as we progressed and the goals get bigger it was the lanky kid who we wouldn't miss from the outfield positions.
But then, when you moved into playing representative football, even at an early age, you would find excellent keepers.
Had they always been in goal? Did they prefer standing between the posts to charging around the pitch? I couldn't empathise with them and in many ways I still can't.
It's an unusual, isolated, specialist position in a sport where increasingly the other ten players on the team can do as they please.
This week on The Footballers Football Show we have a special focus on goalkeepers and look to find out what makes them the way they are.
Jonathan Wilson's recent, and typically well researched book, on goalies is appropriately titled The Outsider. Amongst any 11 that is what they are: quirky characters, who train away from the group and spend much of their working week in concentrated isolation.
It's perhaps why so few - currently two of the 92 - become managers, though that is an area we'll discuss on the show.
They have to be mentally strong, physically brave, powerful yet with razor sharp reflexes, and, increasingly, they have to be footballers.
It's this evolution of goalkeepers from shot stoppers to playmakers which I find particularly interesting and again we'll debate.
Our panel includes Britain's most expensive goalkeeper, Craig Gordon, who has suffered more than most from the physical challenges of keeping; Brad Friedel who at 41 continues to maintain incredible levels of conditioning; and keeper-turned-coach Dean Kiely, who will lend insight from a different perspective.
The Footballers' Football Show: 10pm, Thu, Sky Sports 1 HD