David Jones says Chelsea showed their title-winning credentials against Spurs
David Jones blogs on Chelsea's flair players, the race row and the next Footballers' Football Show.
Last Updated: 26/10/12 12:57pm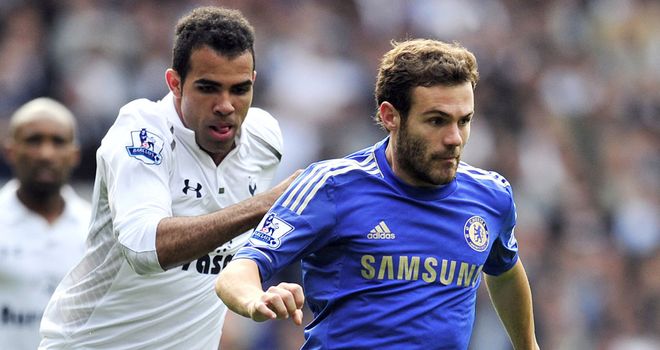 Watching on from the Sky Sports studio with Glenn Hoddle and Jamie Redknapp, when Spurs raced into a 2-1 second half lead, they felt this was the moment we would learn about the Blues' title-winning credentials.
But it wasn't just the way Chelsea responded to falling behind it was the style with which they eventually swept to victory that was so impressive.
In Juan Mata, Oscar and Eden Hazard they have three ball players the envy of the Premier League who have also shown a willingness to scrap without the ball which has epitomised Chelsea's early success.
Another major test, perhaps their biggest so far, falls their way on Super Sunday with the visit of Manchester United and I for one can't wait to tune in.
On Saturday I'll be at Villa Park as Paul Lambert faces his former club Norwich for the first time, fresh from the Canaries' morale-boosting and much-deserved win over Arsenal.
Neither side has shown any real consistency yet so this game could come down to old fashioned desire, and not just from the dugouts.
Complex
Before then it's The Footballers' Football Show which I'm thoroughly looking forward to on Thursday night because, as usual, there is so much to discuss.
Little did we know at the start of the season what a hot topic racism would be, but every week this complex narrative takes another twist.
I was disappointed with criticism to last week's programme from some on social media dismissing our debate as "four white blokes talking about racism". Should we not be offended, too? Should we ignore it in the hope that it goes away?
This is an issue that affects everyone and the moment it becomes a 'them and us debate' we all have problems.
In the news this week has been the boycott of the 'Kick It Out' shirt by some black players, among them Aberdeen's Jason Brown, who joins us in the studio.
Brendon Batson will be in the studio, too; he is a vastly experienced football administrator who worked hard to break down racial barriers as a player and has continued that good work from the sidelines
Also with us is Shebby Singh, well known in Blackburn as Rovers' global football director, where he bids to smooth the choppy waters between fans and owners.
Catch The Footballers' Football Show, 10pm, Thursday, Sky Sports 1 HD.