Trap flaw?
Giovanni Trapattoni's safety-first tactics could cost Ireland at the Euros, says Jeff Stelling.
Last Updated: 08/06/12 12:23pm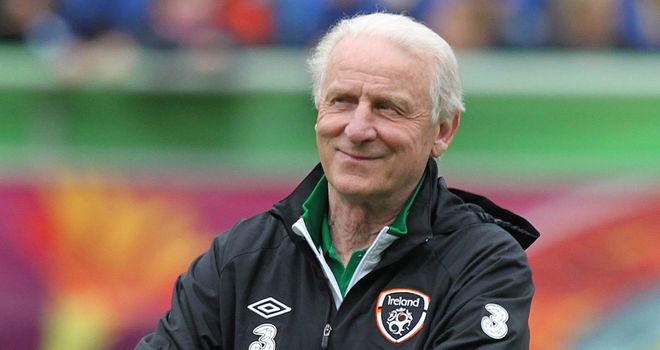 Giovanni Trapattoni is the archetypal Italian manager whereby avoiding defeat is the absolute key.
The Irish have done well under that philosophy, but I'm not sure they have the mentality to take the bull by the horns and win a game, which is why I think they will find it tough to get past the group stage at the Euros.
I saw Ireland during the 2002 World Cup in Japan and South Korea, when they were fantastic, while I've also covered a few of their qualifiers over recent years.
They are a decent side, but they lack that killer instinct and do not have a proven goalscorer. Robbie Keane might have been that man in his pomp but he's not now.
Ireland are going to need players like Aiden McGeady to be at his absolute peak and I'm surprised that James McClean looks likely to miss out on a place in the starting line-up for the clash with Croatia.
He is potentially a key player and, as we've seen at Sunderland over the second half of the season, he can be a game-changer.
A lot will depend on their opening match against Croatia but, with the problems that have befallen the Italian camp, it is not beyond the realms of possibility that Ireland can get out of the group.
And nothing would give Trapattoni greater pleasure than for his side to beat Italy.
Morale
Match-fixing allegations have arisen again in the Italian game and what effect that will have on team morale when they go out to play you don't know.
They seemed to be galvanised by the previous scandal six years ago when they went on to win the World Cup but I think they had better players than they do now.
Back then they were littered with star names. That's not quite the case now and it is not a great Italy side, but if you look at their players they still seem to have a pretty good set-up.
Cesare Prandelli, the Italy manager, has handed Mario Balotelli the number nine shirt for this tournament, which might indicate that he is going to be their first-choice centre-forward. I would go with anyone but the Manchester City man.
You cannot afford to risk him in a tournament of this stature and I would select Antonio Di Natale instead, a man who may be in his mid-30s but is extremely reliable.
We saw against Arsenal in the qualifiers for last season's Champions League just what a class act he is, and he will be coming into the tournament on the back of 23 Serie A goals and having helped Udinese to finish third in their league. He is free scoring and has an arrogance and a style about him that I like.
Starting him would free Balotelli up to potentially play the role of an impact substitute and if you are going to have him in your squad I think that's how you should use him, as Roberto Mancini did on the final day of the Premier League season against QPR.
Quality
Spain have been planning for the absence of David Villa for some time so I'm not sure how much of an effect that will have, but Carles Puyol not being passed fit will be a blow.
However, they have quality throughout, from Iker Casillas in goal, through to Xavi, Andres Iniesta, Cesc Fabregas, Xabi Alonso, Sergio Busquets and the like, so much quality that David Silva can't get a game!
They might not be as strong defensively as they are in other areas and other sides will be desperate to knock out the recent kings of world and European football, but Spain are packed with talent and should go a long way.
I have my doubts as to whether Fernando Torres will start up front so I am looking for big things from Fernando Llorente. He was fantastic for Athletic Bilbao en route to the Europa League final; he is a terrific player both in the air and on the deck and can cause problems for anybody.
Spain's midfield is their shining light, though, and because of that you cannot paint them as anything other than favourites to win the competition.
I would be staggered if they didn't make it out of the group; it would be one of the biggest European Championship shocks of all time.
Depth
Croatia have an attitude about them that they absolutely hate losing and because of that they always tend to do well in these competitions.
Luka Modric will pull the strings in midfield and he is a player I like a hell of a lot, while Niko Kranjcar, who has been somewhat on the periphery at Tottenham, has talent too.
But on the flip side you have to wonder how much strength in depth they have. Should Nikica Jelavic, who has been a revelation since he joined Everton in January , pick up a knock he may be replaced by Nicola Kalinic, who didn't set the Premier League alight when he was at Blackburn.
Croatia will be hard to beat, but I don't think the Irish have anything to fear from them.
Manager Slaven Bilic, who will take over at Lokomotiv Moscow next season, is an intriguing figure, though, and always has been. He was in complete disbelief when he heard that Trapattoni had already named his starting Irish line-up!
Bilic has got the lot as a manager. He is working with a limited number of players in a small nation and has done a great job, and I wouldn't be at all surprised if we see him as a Premier League manager in the not too distant future.
Unbeaten
As far as England are concerned, I think we will get through the group.
Playing France first is probably the best time to face them because opening contests are generally cautious, if we can't beat Sweden we don't deserve to go any further, and then we've got Ukraine, who might have home advantage but are a very average footballing side.
I think we can go through the group unbeaten and then what happens is anybody's guess.
In terms of picking a winner, most people will go for Spain, but I think the Dutch will be hard to beat.
They are in one hell of a group but Portugal are nowhere near the force they used to be, and Denmark, likewise, shouldn't cause too many problems. Netherlands and Germany should come through without too many difficulties.
When you've got players like Wesley Sneijder, Arjen Robben , Rafael van der Vaart, and Robin van Persie, you're not looking to shabby.
Holland have a reputation of killing themselves at major tournaments, but I'm not sure how relevant history is when you come to these big events and I just feel that quality eventually shines through.
There appears to be a bit more spirit and togetherness in the camp than there has been in the past and they will be a major threat.