Pure quality
Guillem Balague says that Spain's quality meant they could play whatever game they wanted and still win.
Last Updated: 02/07/12 5:33pm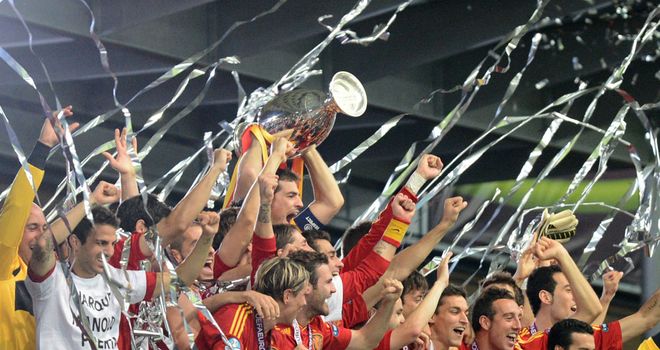 During the final it was interesting to see the close marking of Xavi on Pirlo, and with the attentions of Cesc as well, the Italian's playmaker found it impossible to impose himself. The alternative for Italy is De Rossi, who gave Italy options in the first game - but the Spanish were wise to that as well and kept him covered.
So it wasn't all about attacking, the Spanish had a well thought out defensive strategy and game plan as well.
Cesc admitted that he had played the final more as a number 9, rather than a false nine. But if you ask me, I'd say he was a 10 and a half - if its possible - as he also participated a great deal in the build up to Spain's attacks.
A new style of football? More like a progression.
As a Premier League manager told me last night in an sms message, what chance has the rest of the world got if Spain don't even play with a striker and still win by scoring four in a final of that magnitude? Well, we still had 11 players on the pitch, it's not like we took one off! I answered. Teams have been lucky against Spain defending deep. So for the Spanish it was time to invent new ways of attacking!
And another point. Amidst the debates over strikers and false strikers, formations and attacking or defensive set ups; one thing became clear this tournament: if you have the players of the highest technical quality and understanding of the game, you can ask them to do, play or approach the game any way you want. Anyway, long, short, passing. But it's the quality of the ingredients that determine the recipe, whether you're making paella or a steak and kidney pie...
Amidst the chaos and the celebrations, I spoke to the players after the match last night and there was nothing that could take the shine off their glorious moment and sense of complete satisfaction at what they had just achieved. I must admit, I felt the same. But, nevertheless, there was something I had to ask them: Now it was all over, how had the criticism from certain quarters affected them? Obviously there are those who completely failed to see what Spain were doing in previous games, when, at a major tournament, they were doing what they needed to secure progression, to preserve and conserve their energy and possibilities. As a consequence, they were accused of being boring! The players laughed at those suggestions... 'bah, opinions'.
But one person's comments did upset them after the match when they were told what Arsene Wenger had said earlier that day.
The Arsenal coach had said: "They have betrayed their philosophy and turned it into something more negative. Originally they wanted possession in order to attack and win the game; now it seems to be first and foremost a way not to lose.
"They have become more conservative, and they don't want to give the ball up because they don't want to give you a chance to score. That's the impression you get from Euro 2012. Yes, it can be hard to break down defensive opponents, but this is a challenge that confronts every successful team."
As one player told me "Arsene knows more than anybody how hard it is to get titles, why did he have to say that?"
And another one said, "He is a football man, he could have waited till after the final to say that."
Nevertheless, nothing was going to stop those players from enjoying their success. The party had started.
Guillem Balague's Euro Diary will become, along with added entries and interviews, an eBook at the end of the tournament.
For more info, check www.guillembalague.com