Does it take two?
Do Spain need both Sergio Busquets and Xabi Alonso as "pivotes"? Guillem Balague has his say...
Last Updated: 27/06/12 11:56am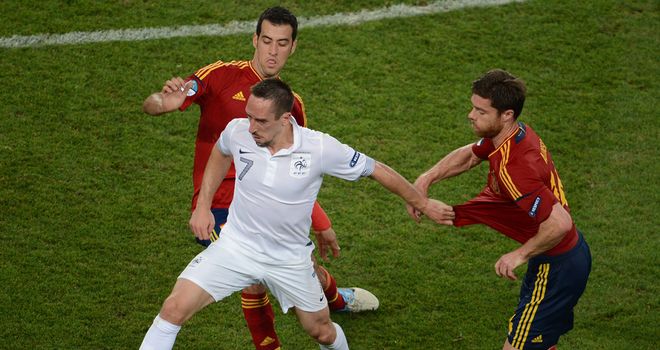 One of the interesting features to have developed at Euro 2012, in the Spanish camp, has to do with the role of the deep-lying central midfielders, what we call the "pivotes".
To progress with the idea of positioning and the possession game in the Barcelona mould, Spain don't need two pivotes, one would do.
It is a point that has been raised by some of the Barcelona players in the Spanish camp to Vicente del Bosque who has called the Sergio Busquets-Xabi Alonso partnership non-negotiable.
The suggestion is that Busquets on his own can do that role (as he does for Barcelona) and that perhaps Xabi is not needed. The response of the former Liverpool player has been outstanding: he has won more authority than ever.
He probably thought: "Ok, I can feel some might think I am not needed, so I am going to earn my place."
Busquets has had to accept he has to move aside, in a more secondary role than he has at Barcelona, covering space, looking after the back of full backs, but having less of the ball.
Xabi takes the free kicks as often as Xavi, he takes the penalties and tells players off if he has to. He is now one of the lieutenants in the team, alongside Xavi.
A second point to make before Wednesday night's game: Spain is a team full of winners, capable of giving the side what it requires and of understanding what every part of the pitch, every minute of the game needs.
It doesn't mean Spain will win everything but it does mean that you can trust they will maximise their potential. So perhaps tonight we will see the Spain everybody wants (and that in recent tournaments were only seen in the semis; Russia in 2008 and Germany in 2010).
Finally: Spain are basing the success upon a mix of possession and talent. Having the ball allows you to defend and you hope that talent will appear when you need it to.
It is not as complete a team as Barcelona, or even Real Madrid, but that is the price to pay to balance the squad so it includes not only Madrid players but also other important peripheral figures.
Guillem Balague's Euro Diary will become, along with added entries and interviews, an eBook at the end of the tournament.
For more info, check www.guillembalague.com