Backing Spain!
Guillem Balague believes that Spain have the winning mentality to beat France and make the last four.
Last Updated: 24/06/12 4:24pm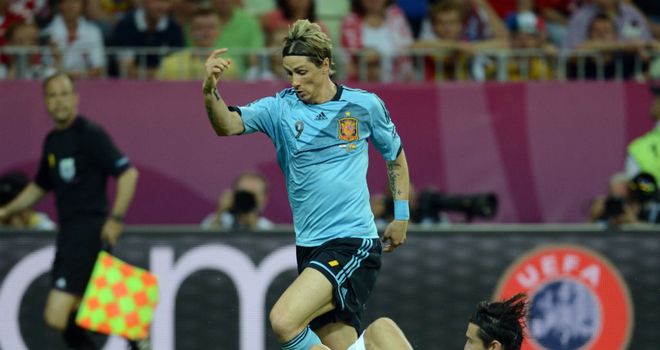 Right, time to get off the fence, with a prediction ahead of tonight's quarter final. Spain should beat France and then struggle against Portugal.
Yes, I know Spain has never beaten France (only 1 draw in 6 official games!) but if there is something to say about this Spanish team is that you can trust them when it comes to the KO stages. Yes, ok, they struggled against Italy in the quarters of 2008 and made a meal of it against Paraguay in the quarters of 2010 (Casillas had to save a penalty with 0-0 in the second half), but these are guys who have that ethereal thing, the winning mentality that comes from winning. Someone calculated that the 12 players on the bench have won more titles put together than any other squad at Euro2012.
That's not an idle boast, pointed out just for the sake of showing off: its a valid point that when it comes to final games, to the KO stages, to the moments of truth- you know that these guys can and will deliver.
Luck is the only thing beyond that their control.
One more stat that Lu Martín used in El País yesterday: the Spain players have won 54 of the 60 big finales they have competed with. France on the other hand have performed a minor miracle of in fighting back from their lowest point two years ago to a stage where they are building a competitive squad. I say 'building,' because they are still a bit too tender to go all the way - but they do possess the individual to beat Spain if Benzema, Nasri and Ribery can combine.
I expect Torrres to start this evening.
And, despite the debates in Spain that the midfield defensive pairing of Xabi Alonso and Busquets is one holding midfielder too many - I expect both will be involved. There have also been calls for a more adventurous right back than Arbeloa, but again, Del Bosque will probably stick with the formula that has got Spain this far. Cesc and Navas should, perhaps, to come on depending how the game goes.
Some people have accused Spain of being boring: something that I would deny strenuously - and already have in an earlier blog. However, I'd agree that the have been a little conservative in possession at times so far in the tournament. That may change if the rumour that Pedro is to be included in the starting line up. The Barcelona winger adds penetration - passing and possession - alongside a genuine goal threat. If he plays, it's a step towards a more threatening, offensive Spanish approach.
I predict that Spain will control the game and have most of the possession, with France struggling to defend but counterattacking with menace. I think we'll see Benzema playing less deep than he has in previous games to have a bigger impact, and overall, I suspect we'll see some better football than we have seen from both sides so far.
And Spain to win. There it is in black and white. And if you're reading this after the match and we're not celebrating, I'm sure you'll have fun reminding me of it!
Guillem Balague's Euro Diary will become, along with added entries and interviews, an eBook at the end of the tournament.
For more info, check www.guillembalague.com