Perspective perhaps?
Guillem Balague wonders why Spain were the only team who didn't celebrate reaching the last eight.
Last Updated: 21/06/12 11:35am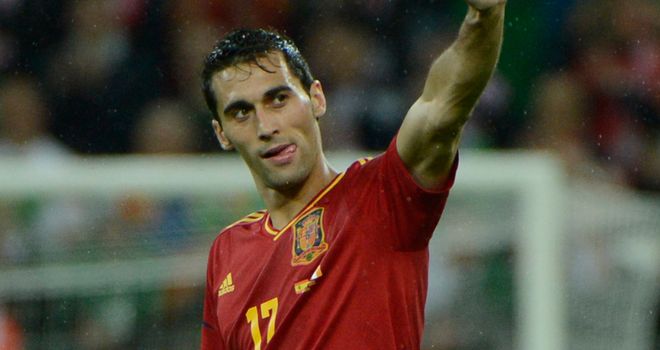 Unlike others sides that danced around the pitch and partied with their fans at the final whistle, Spain were the only team that didn't celebrate getting into the quarter-finals of Euro 2012. Why?
Expectations are huge back home and the players are completely in touch with the mood of the nation because they can watch Spanish television in their training camp in Gwinewino, Poland.
It is a great way to have a feel for what people think back home but it can also create the wrong impression. A lot has been said (and written, and yes, they read Spanish papers too) about the necessity of having Sergio Busquets and Xabi Alonso together, or the reasons why Xavi doesn't pass the ball to Alvaro Arbeloa that often.
In fact, some players have been discussing with Vicente del Bosque the necessity of being even more attacking and changing players in those two (defensive midfield and right back) positions, but Vicente has cut the debate by assuring them the Xabi / Busquets double pivot set up is non-negotiable - and the first choice full backs stay as they are.
They are legitimate arguments but in the hands of certain commentators they can be received as a criticism of the World and European champions - and the players have heard the comments.
The squad now senses there is too much focus on the negative and less on the fact that they ended up top of the group - which has created tension.
Qualification is secured and, because everybody expects it while demanding better football and more convincing victories; it is seen as a relief that it arrived - a foregone conclusion amongst some fans and therefore not a cause for celebration.
Well, if you have any doubt of how Spain are doing - and please, some perspective: no team has had a perfect tournament, even the Germans have not had a perfect 90 minutes yet - then have a look at the stats.
Spain are the side with the highest possession stats with the ball; spending the most minutes in the opposition half; the most passes; the most goals; the most shots at goal; they have conceded the least (1); they have received least shots at goal per match (6). And they are the second team in terms of ball recovery - only Russia did that better.
Maybe we should readdress our impressions and analyse Spain, not from where we want them to be, but from where they are.
Guillem Balague's Euro Diary will become, along with added entries and interviews, an eBook at the end of the tournament.
For more info, check www.guillembalague.com