The bore identity
Guillem says it's unfair to label Spain as "boring" when they always face teams defending deep.
Last Updated: 19/06/12 12:50pm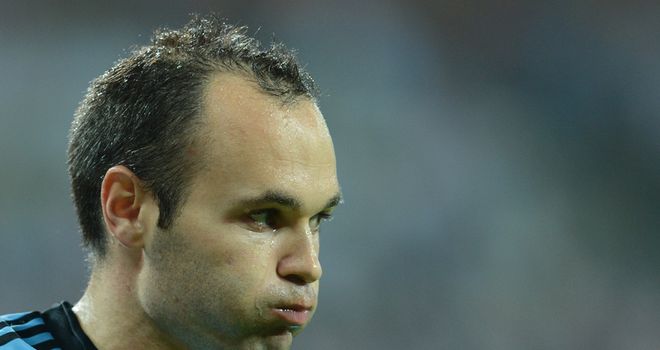 On Monday night, versus Croatia, we saw a Spain side inhibited by their own fears.
Playing with one eye on the result, facing possible elimination from the competition and knowing that a draw would suffice - they kept the ball well and were in control of the game, but lacked penetration.
Clearly, Vicente del Bosque has, at least, a Plan A and a Plan B - which means that Spain can switch between playing with or without a recognised striker. However, either strategy can only successful with the right team selections to make it work.
There is a debate over whether Sergio Busquets and Xabi Alonso should both be on the pitch at the same time; or whether Alvaro Arbeloa should give way to a more attacking full back.
Engaging with British fans and English speakers via Twitter, it been interesting to see how non-Spanish fans want to see Spain win and win in a spectacular, impressive fashion every single game.
I'm looking at a comment right now telling me that "Spain are boring." In my opinion, it's fine for people to want to see teams playing great football; but do some people not realise that the lack of goalmouth action whenever the world champions take to the field is because opponents are setting themselves up not to get beaten?
Before anybody accuses me, or Spain, of complaining about another team's perfectly legitimate approach - let's make it absolutely clear that there is no complaint. Teams have every right to play how they wish and there is more than one way to play football. The Spanish way is right for Spain, but not necessarily the case for others.
But equally, it is unfair to accuse the Spanish team of being 'boring' when there is another team on the pitch playing with 10 men behind the ball.
I managed to chat to Niko Kranjcar after the match in Gdansk and the Croatian midfielder admitted to me that he felt a little sorry for the Spanish players because they "must be getting a little tired of teams playing against them as deep as we did tonight."
He obviously didn't envy the champions need to have to spend every game trying to break down opposing defences and appreciates how difficult it is to find openings and create chances when opponents only have one thing on their mind.
Don't get me wrong. Spain do have a responsibility to break down those opposition defences: but the 'boring' tag and expectations can be a little harsh, especially when you consider that this group of players are fatigued, and at this stage of the competition the priority is to secure qualification.
Restricted
Knowing that a draw would do, the combination of tiredness and a reluctance to gamble restricted Spain's penetration. And it's fair to see the weight of expectation that comes with being world champions is a burden that can inhibit at times.
Jesus Navas could be part of the solution to that problem in the next couple of games. His introduction on Monday night saw him create more of a threat in the attacking third than any of his team mates had managed and he was one of the few players who regularly frightened the Croatian defenders. Incidentally, Croatia can consider themselves a little unlucky not to have been awarded a couple of penalties.
If Spain ends up playing England in the quarter finals it will be billed as a clash of footballing philosophies - of the English versus the Spanish way. But I don't see it like that: rather a match between Hodgson's England versus Del Bosque's Spain.
Del Bosque's side do have their own style and philosophy, but they need to sharpen up - and away from the group stages, when only a win will do; this generation of Spanish stars have shown that when they have to, they can move up a gear or two when it really counts.
As far as England are concerned, I'm yet to see a clear definition of their style under Hodgson - at times they look part Italian, at other times pure English. They are certainly hard to beat and have got a lot of pace up front, which are two characteristics that can take you far.
I hope they do find their style though, because when the best of the English game is combined and brought to the forefront, England can cause problems for any team. I'm really hoping to see England play well against the Ukraine on Tuesday evening.
And if they end up as runners up in their group, let's look forward to the quarters!!
Guillem Balague's Euro Diary will become, along with added entries and interviews, an eBook at the end of the tournament.
For more info, check www.guillembalague.com