Mind over mutter
Guillem Balague examines the mentality - and the manager - that has made Spain hit the heights.
Last Updated: 18/06/12 8:24am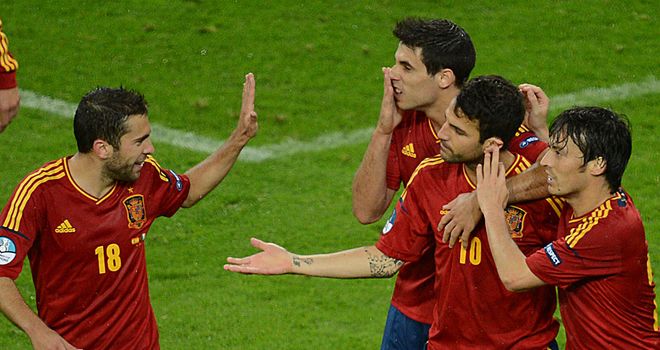 Clearly, the single most decisive asset required for a team to become extraordinary is talent, both individually and collectively.
Then there is that ethereal thing called a Winning Mentality that some teams acquire at some point - often after breaking free from the handcuffs that might have limited their performances in the past.
It is something you cannot train and you either have it or you don't. All great sides have it, and it's what most often prevents talented sides from becoming great.
The Spain that won the European Championship of 2008 was essentially a squad full of talented players who managed to smash through psychological hurdle that had tripped previous generations at the quarter-final stage - and that they did so with a defined style more than helped the cause.
This Euro 2012 crop of Spanish players is full of Champions League winners (from four teams),World Cup and European Championship winners; and domestic league winners (from the Premier League and La Liga).
Even for a simple training session every one of them is on their toes: the level of focus and commitment applied to everything that is done on and off the pitch is immense. I am not talking about whether Spain wins the tournament or not (as that depends on many factors, often external) but about a team that you know for a fact will give their all - and this group of players has an awful lot to give.
Moment
I'm discussing this for two reasons.
Firstly, I must admit that there was a moment when I doubted whether this team could still be as hungry for success as they were two or four years ago; after all, when you've won everything there is to win in the game, how do you keep lifting yourself for the fight?
That's not a criticism of this group of players, but a natural reaction to success. That was my worry. But you can tell that the appetite has not deserted this Spain side. (Incidentally, that winning spirit and competitive hunger in the Spanish squad is what makes the suggestion that these players will prepare for a 2-2 draw against Croatia - thereby guaranteeing qualification for both and eliminating Italy - absolutely ridiculous).
Secondly, having such an incredible depth of talent and proven winners in one side can present an entirely unique set of problems. For example: What do you do with the players who don't play, start matches or play a peripheral role?
You saw the way Cesc celebrated his goal against Ireland (his passion could easily have been rage, perhaps frustrated for not having started after scoring in the first game). Before the tournament started, Alvaro Negredo thought he had a chance to start against Italy and now, after Cesc has become the replacement for Torres, he is probably the third or fourth choice for the forward role.
Santi Cazorla came on against Ireland, which meant a Champions League winner like Juan Mata remained on the bench. Pedro hasn't played a single minute yet.
Those situations create a sort of competitive tension that can only be managed by a coach who is an expert diplomat, who has overseen the egos in the dressing room of a big club, who can resist reacting to a petulant attitude of a player because he has been a player himself.
Vicente del Bosque is, then, the right man to look after this group of immensely talented stars and winners.
Torres, by the way, should start against Croatia and for now the false striker game plan has been relegated to Plan B. What a fascinating list of options this team has.
Guillem Balague's Euro Diary will become, along with added entries and interviews, an eBook at the end of the tournament.
For more info, check www.guillembalague.com