Forward thinking
Guillem Balague defends Vicente Del Bosque's decision to face Italy with no striker.
Last Updated: 11/06/12 3:46pm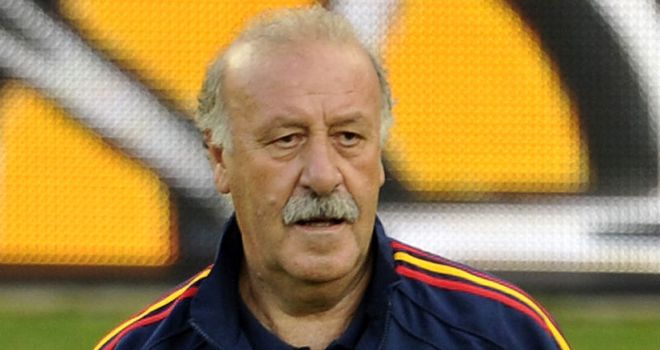 Last night's 1-1 drawn in Gdansk between Spain and Italy was a fair result.
Italy impressed with their positioning. They were very capable in adapting defensively to most of what Spain offered and were brave in employing a high defensive line.
They showed courage - when they attacked they did it in numbers; their attitude overall was positive. They weren't obsessed with destroying and aimed for a degree of possession with Daniele De Rossi, Andrea Pirlo and Antonio Cassano demanding the ball often, especially in the first half.
In the second half, Spain improved upon the things they had done badly in the opening 45. And this is where we introduce the striker/no striker debate.
The idea of coming out onto the pitch without a striker - a reference point, someone to target - seems to make people really nervous. Last night I received countless messages on Twitter (@guillembalague) claiming that Spain's decision to start without a recognised number nine was either anti-football, arrogant, or even defensive!
Playing without a centre forward is an option. Don't forget that football goes through periods of revolution and counter revolution, shifts in tactical trends, where teams finds new ways of attacking (or defending) and little by little the old thinking about the game shifts.
Take the idea of playing with a false striker (false number nine), rediscovered by Roma in recent times but pioneered by the Dream Team of Johan Cruyff at Barcelona in the early nineties (Laudrup played as the false striker and there was no number nine in the team).
As Alfredo Relaño writes in the Spanish sports daily, AS, this morning: "Many of the greatest teams in history have triumphed by cutting out the number nine: since Sindelar's Austrian Wunderteam of the 1930's, through to the Barça of Messi, via the River Plate side of Pedernera, the Hungary of Hidegkuti, the Madrid of Di Stéfano, the Brasil of Tostao, the Ajax of Cruyff and others forgotten along the way."
Judging by the reaction, people were incredulous that Spain should take that approach against Italy last night - and I'm curious to find out why it drives people bonkers. However, I'll concede that if you are going to play without a centre forward (especially when you have Torres, Negredo, Llorente available) you need to do it better than Del Bosque's side did in the first half: a different combination of midfielders, with Pedro or Jesus Navas, who make runs into the space behind defenders, would be a start (although perhaps del Bosque thought Italy were going to play deeper than they did, killing the spaces that those midfielders would have had to open).
You also need better movement off the ball and crisp quick passing, which Spain lacked until they found their rhythm in second half. Spain's lack of pressure high up made life easy for Italy (as per the goal) and made Spain appear vulnerable.
The idea is fine, the problem was in its application.
Another issue was that the Spanish players hadn't really prepared - mentally or physically - for the formation: Del Bosque was unsure whether to start with a striker or not right up until just before kick off and even the players believed that Torres would start, based upon their experiences at the training ground.
Even Cesc, who would have to play a pivotal role, was shocked. They hadn't prepared for playing without a striker in training and it came out of the blue - although it is something that the Barcelona players have plenty of experience of and are accustomed to.
In summation, there's nothing wrong with the concept of playing without a recognised striker, but against Italy there was more than one deficiency in its execution.
Another thing to say about the Italy-Spain game: the grass.
It is a shame, even more, an embarrassment that the pitch cannot be watered before a game. It was long and it was dry, and Spain asked for it to be watered - as all pitches are if its not raining. The ball would have moved quickly for both rivals and it would have suited both (Spain passing and Italy's counter). In fact it would have benefited the spectacle.
The Italians were asked if they wanted it watered and they said no. UEFA based their final decision not to water it on - wait for it... the groundsman's opinion that it was fine: automatically making him the most important and influential individual of the tournament.