Who to bank on?
Guillem Balague wonders which Spanish forward will be asked to help ease the nation's woes.
Last Updated: 26/02/13 3:14pm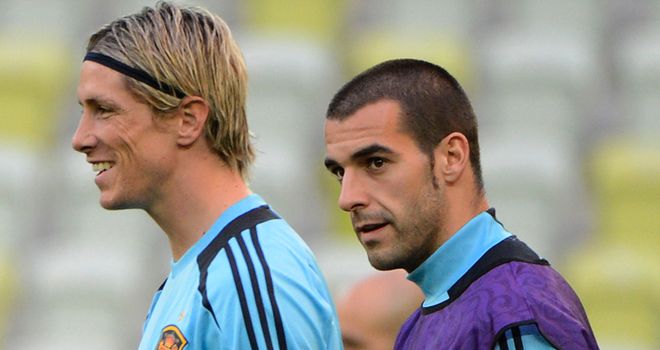 So, two days in to the tournament and what have we learned?
Greece scored a goal with practically their first chance in the opening game; Denmark the same; Portugal had their first serious opportunity when Pepe hit the bar.
In contrast, all their opponents - Poland, Holland and Germany - wanted to take the initiative, but their superior possession gave them little actual reward. An early trend?
Watching football from a tiny bedroom in a cosy hotel near Gdansk gives you time to conjure up all kind of theories and hypotheses. If you also happen to be feverish and running a high temperature - and can't fathom the number you need to ring for reception or room service, and don't have the willpower to find out - those theories and trends start taking on an interesting hallucinatory twist.
Couldn't sleep. Counting sheep. Never quite made it up to 100 billion though. I mean, that's quite a lot right? How could the people running the Spanish banks lose that amount of money?
I know where I normally look first, but it could hardly have fallen down the back of the sofa. Who's got the money now? Big house with big sofas?
Meanwhile, you should know that the Spanish government are refusing to talk to us about it. And our President, Mariano Rajoy, spent the day hidden in a toilet. That is why he didn't make the announcement regarding the bailout himself. Look on Twitter, it's even a trend!
Apparently he will be in Gdansk where Spain play on Sunday. The government has asked the national side to 'rescue' the country with a good result in Poland and Ukraine. The cheek! This is football, where normally trophies reward the hard work and punishes speculation... if you know what I mean.
We play Italy on Sunday evening and someone even suggested that Spain could solve all their problems simply by sticking the 100 billion euros on Italy to win at 7/2 and asking our boys to 'take it easy' on the Italians.
Anyway, football. The doubt for Spain is not the style or the formation (one striker up front), but who will be the number 9.
Don't believe anybody who says that they know because not even the players know themselves - and will not find out until an hour-and-a-half before kick-off.
Alvaro Negredo was the favourite up until the last couple of days, but Fernando Torres' good mood and positive attitude appears to have given him a certain advantage.
If I hear, I'll tweet on @guillembalague before the game.
The game against Italy? A tired team against one that has had to change players and formation days before their opener at the tournament.
Both nations have very competitive genes, both winning mentalities. Both have selection dilemmas up front and both sides are exceptional defensively (Italy defending deep, Spain with his early pressure).
I'm sure the fear of losing the first game (that was so obvious in the Portugal-Germany) will rear its head. It sounds like a draw, don't you think?
Guillem Balague's Euro Diary will become, along with added entries and interviews, an eBook at the end of the tournament.
For more info, check www.guillembalague.com