Football Commentator & Columnist
An 800-mile mission
Martin Tyler blogs on his dash from Donetsk to Warsaw to attend both Euro 2012 semi-finals.
Last Updated: 29/06/12 10:16am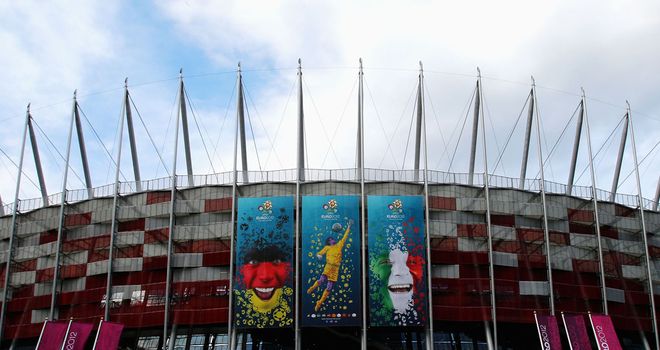 The back-to-back semi-finals schedules at European Championships seem to be made on the false assumption that no members of the media want to attend both games. Travel schedules are challenging at best and often impossible.
It is the same at World Cups. I well remember a no-sleep night in Germany in 2006 with just a little bit of shut-eye on a six-hour train journey from Dortmund to Munich.
The Euro 2012 travelling conundrum was from Donetsk, way in the east of Ukraine, to Warsaw in Poland, some 800 miles, way beyond the limits of rail travel in the time available.
Direct flights were at a premium so a plane change in Kiev and an awkward stop over was the only solution for myself and my three SBS colleagues Rachel, Ollie aka "Gark "(think about it!) and Vitor.
All have been excellent travelling companions and unlike myself recognise the value of eating heartily and regularly. Think Australian No-danger of Shrink Australian!! Vitor, our intrepid reporter, is actually Portuguese-Australian. He certainly could eat for both countries.
Mind you, I was granted a special culinary favour towards the end of our stay in Donetsk. Breakfast has always been my favourite meal but to be honest I have never been able to stomach the cheese and cold meat with which many Europeans seem to start the day. It was a one-dish morning menu. Ham and cheese was that dish.
My requests for something different fell on deaf ears or something was lost in translation until on my second-to-last day there some wonderful Ukrainian hot cereal was produced. Twenty years ago I had the privilege of interviewing Gordon Strachan for a video of his career. He put his longevity as a player down to porridge!! I have been a devotee ever since!!
Mind you my Ukrainian porridge came with a warning from the head waiter not to tell the other guests because they would all want some!
Thrilling
Back in 2006 it was Italy versus Germany in the first semi-final of that World Cup. In Euro 2012 the same countries were paired together in the second. Both games were thrilling and both times Italy came out on top. It is a fixture which certainly fazes the Germans, who are usually so competitive.
I was fortunate to witness such a marvellous match. After commentating on the Portugal-Spain encounter I went to Warsaw simply as an observer looking to further my research for broadcasting the Final. Unfortunately such was the understandable demand for the "observer" tickets usually available from UEFA that they were subject to a ballot in which I did not win.
I was facing the project of being at the stadium but not in it until some very good friends from Swedish television came to my rescue with a spare pass to the commentary area.
We commentators are a fraternity but this was exceptional kindness and understanding. I have not been so grateful to a gesture from Scandinavia since the Tyler family had rashers of bacon sent from Denmark when I was growing up in Britain at a time when food was rationed in the years after he Second World War!
The football fare was gripping and any fatigue was soon forgotten. The extra time and penalties had meant a 3am finish after the first semi. We were then up and off at 6.30am for our trip to Warsaw.
An out-of-town hotel in the Polish capital meant another very short night following Italy's remarkable victory before we headed off back to Kiev for the climax of Euro 2012.
England's exit there a week earlier now does not look so bad given Italy's subsequent success. Now after stopping Germany's world record run of 15 consecutive victories in competitive internationals they try to end the reign of Spain.
Just like my wish to attend both semi-finals, it is a task that is difficult but not impossible!!