Football Commentator & Columnist
Break from the norm
Martin Tyler reports from Donetsk after England earned some rare luck in a game they could have lost.
Last Updated: 20/06/12 11:13am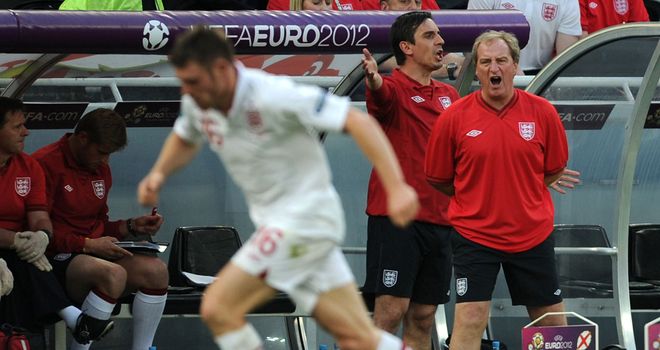 The last time I sat alongside Gary Neville in a commentary position was at the Champions League Final in Munich where his belief that Chelsea's eventual triumph was "written in the stars" turned from prophesy into reality.
On Tuesday evening in Donetsk I was wondering whether he was feeling the same way about England and Euro 2012.
My seat in the broadcast area in the magnificent Don Bass Arena was just five rows behind Gary's latest professional home, the England dug-out. His animation reflected the fine margins between success and failure in this excellent tournament. He was up and down just as England's hopes were in a game that could easily have been lost and was eventually won in the tightest of manners.
Out here it is becoming customary for England to go 1-0 up via a Steven Gerrard cross and a scoring header. Following the blueprint of Joleon Lescott against France and Andy Carroll versus Sweden was Wayne Rooney, fully justifying Roy Hodgson's decision to recall the Manchester United attacker straight away after his suspension. It was not as clean cut as the earlier goals, owing plenty to deflections and a goalkeeping error, but it did the job.
So too at the other end did John Terry's remarkable clearance which, wrongly of course, prevented a Marko Devic equaliser for Ukraine. It was the perfect example that the extra assistant referee behind the goal does not work. The official was in a perfect position but the human eye could not be sure. The clamour for goal-line technology was as loud as the Ukrainian protests.
On our television monitors in the media area the replays were immediately conclusive. Had the "goal" been given the tide of the match might well have been turned. I felt the same in Bloemfontein two years earlier when England were then on the rough end of the decision to play on.
The home fans must have known that it was a wrong call because there was no replay of the incident on the big screens inside the stadium, a sure sign that there was a controversy.
As it turned out a draw would have been enough for England to win the group , an excellent achievement given France's 23 game unbeaten run, which Sweden were good enough to end , and that game three was an away match against a co-host.
No complaints now about what was Fabio Capello's decision to base the squad in Krakow in Poland and fly in and out of Ukraine for each group game. It has worked for England; though for Holland an almost identical approach failed spectacularly.
Warm
Life in Donetsk however is very good. Though I was surprised to find myself in a suburban hotel which did not serve coffee, almost unthinkable in Eastern Europe, the welcome has been as warm as the weather. So far the only dark clouds have been meteorological.
The stadium is a structure of genuine beauty set in parklands that would be beyond most city centre venues. The language is predominantly Russian and Ukraine don't like playing here despite the splendid facilities. In seven internationals spread over the old and the new Shakhtar stadia they have yet to win. The John Terry tale has only added to that disenchantment.
Most commentators are very careful about experimenting with local dishes. A settled stomach is a real necessity for the job!! Yet the Donetsk diet is a case of so far so very good with potato pancakes with mushrooms already a firm favourite.
But football is our real food and Euro 2012 is very tasty. The 24 game group stage produced not one goalless draw and four mouth-watering quarter-finals are on the menu now.
I have covered all the tournaments where England have made the Finals from and including the European Championships of 1980, and I do subscribe to the view that though there have been some very disappointing days in far-flung places, there has also been precious little good fortune. Maybe that tide is turning.
Chelsea's Champions League triumph was against similar odds to those England faced at the start of this tournament. A late change of manager is also like for like.
Gary Neville watched that unfold from his privileged Sky Sports vantage point. He is in an even better seat now though he can't stay still in it. He can influence the future rather than just speculate on it.
Roy's Boys have had a break or two so far but they deserve to be where they are at this point, thinking about Kiev and a quarter-final with Italy.