Football Commentator & Columnist
Power rangers
Martin Tyler has had his eyes fixed on Euro 2012 and he says England are the most dynamic team in it.
Last Updated: 16/06/12 12:13pm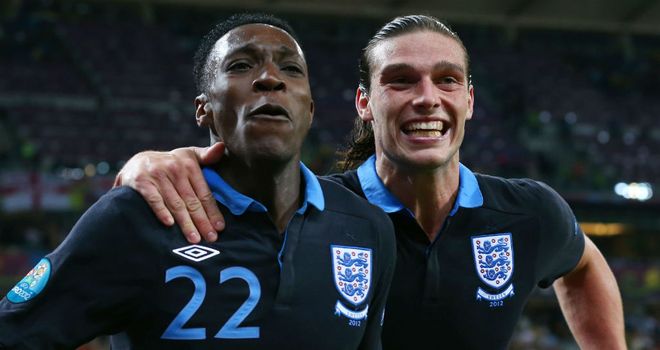 England's roller-coaster ride in beating Sweden took this enthralling European Champions to an even higher level of excitement.
With all teams having played twice, the Swedes joined the Republic of Ireland as the only two of the 16 nations to definitely fail to reach the quarter-finals. Not one country was at this point certain of a place in the last eight. A proper competition!
Euro 2012 has also been played in commendable spirit, and refereed with sympathy, for which Uefa must take a lot of credit. The only red cards in the first 16 games were shown in the opening match.
The first, for the Greece defender Sokritis Papastathopoulos, was actually an error by the Spanish referee Carlos Velasco. The second, for the foul by Woijech Szczesny, gave away the only penalty of the Finals.
And the spot -kick, from Giorgos Karagounis, was saved by the substitute goalkeeper, Przemyslaw Tyton!
New generation
England have been splendidly steered by their captain Steven Gerrard through thrills and spills in gaining four points from two matches. But the new generation is making its presence felt.
Three Lion Cubs snatched the goals against Sweden: Andy Carroll, 23, scored on his first competitive start; Danny Welbeck, 21, hit the winner with that fantastic flick; and though Theo Walcott has been around at this level much longer he is still only 23.
Premier League pace and power got England out of a jam. I have watched every minute of Euro 2012 so far and I haven't seen any other country similarly blessed. Because Ukraine have to win next Tuesday there should be plenty of counter-attacking potential again for the "Lion Cubs"...
Roy Hodgson is a coach who recognises the importance of the fine detail and he will be angry at the defensive deficiencies on Friday, particularly surrounding the second goal.
The issues will be addressed on the training ground but this squad clearly wants to learn and is happy in its work. They have not let Wayne Rooney down either by ensuring England are very much in the competition as he becomes available again.
On Tuesday I will be making my first visit to the Donbass Arena in Donetsk and I hope the thunderstorms which affected the Ukraine - France encounter have blown away for good.
Again it was a testimony to Uefa's organisation that the effects of such extreme weather were dealt with so professionally. What looked like a total wash out was diluted into a delay of under an hour.
Dismal
One disappointing feature in Euro 2012 has been the underperformance of Holland for whom getting their own act together now may not be enough. They are fortunate to still be in with a chance after two dismal defeats. I really expected more of a sustained effort against Germany.
One of my most amazing experiences in almost 40 years in television was being invited, almost pushed, into the winning Dutch dressing-room following their European Championship semi-final win over Germany in Hamburg in 1988. The goalkeeper, Hans Van Breukelen, was responsible. He had become a good friend from his time at Nottingham Forest.
The celebrations were long and riotous. I watched on from a corner until I finally plucked up the courage to remind Hans that this was only the semi-final. "Who cares about the final" was the gist of his retort, "We've beaten the Germans!!"
That wonderful experience was very much in my mind as I started my commentary on Wednesday evening but the Dutch stars of '88 must have been very annoyed to see in the current team show very little of that passion and desire against a long-time rival.
Robin Van Persie's second half goal offered a chance of a recovery but it was a false dawn. Who would have thought that of the 16 participants in Euro 2012 the last team to score would be Holland.
Those first 16 matches, incidentally, produced a very healthy 46 goals. We will remember the 46th for a very long time. It came from Welbeck and restored England's sense of well-being at Euro 2012!!