Football Commentator & Columnist
What's in a name?
Martin Tyler blogs on England's family links and the issue of pronouncing Polish names!
Last Updated: 12/06/12 11:33am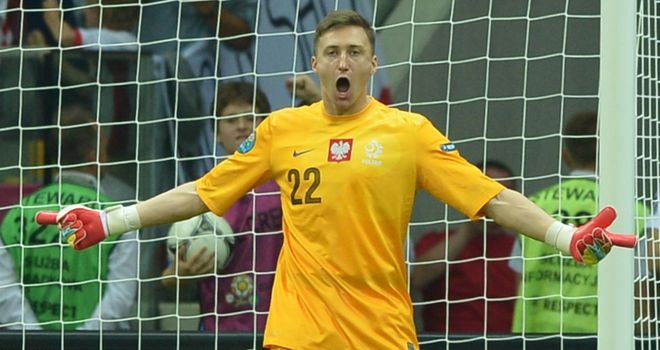 Well every one of the 16 nations at Uefa Euro 2012 has had its first taste of action and are we any nearer knowing who will lift the Henri Delaunay trophy in Kiev on July 1?
I don't think so.
Certainly not from my three commentary games so far for SBS television in Australia. They have all ended in 1-1 draws. I have not yet seen a winner or a loser but instead stacks of resistance and resilience which I am sure will be features of this absorbing tournament right to its final whistle.
The latest in my personal sequence of "one alls", to which you could add my final broadcast of the season here on Sky Sports, the Champions League Final, was England's encouraging opener versus France.
With all the debate about England's centre-backs Roy Hodgson must have been delighted to see Joleon Lescott, a defender who has notched 20 Premier League goals, bring his party piece to the international arena for the first time.
Roy himself was one a run of "one nils" and there was time for England fans to ponder on another but only for nine minutes before Samir Nasri's sweet strike just got the better of Joe Hart's plunge to his right. Manchester City everywhere you looked in Donetsk!!
Neither country could beat the other in the second half, nor more significantly, the heat. The current England management are happy with the Fabio Capello's decision to pitch camp in Poland and fly into the Ukraine and back but I wonder how tiring and tiresome the travelling will become by the third trip in such a short space of time.
Until the oppressive weather kicked in England did look sharp and fit and the younger generation certainly help in that respect. Mind you the arrival at full international level of Alex Oxlade-Chamberlain has made me mindful of my years. I commentated on his dad's only England goal 30 years ago!!
The Chamberlains are only England's fourth father and son combination following the Easthams, the Cloughs and the Lampards.
At Wembley recently I had the chance to tell Alex that none of the above had both scored for their country. If and when he adds to Mark Chamberlain's effort in a 9-0 romp over Luxembourg at the old Wembley they will have created a family first in the England records.
Pitch
Working backwards I had some sympathy for Cesc Fabregas and his complaints about the dead nature of the Gdansk pitch for Spain's draw with Italy though maybe "lamentable" was too strong a word.
It is all the more worrying for the "pass masters" and defending champions because they play all their group games in that stadium.
Italy, though, were impressive and deserved their point. It was a fascinating match though I was astonished by Mario Balotelli freezing when he had created such a great chance for himself to give Italy the lead; a moment that became more painful for him when his replacement Antonio Di Natale took his own opportunity within five minutes of coming on.
My broadcasts started with the opening game which brought all the commentators quickly face to face with one major problem; the language of Poland, the land the vowels forgot!!
I had been practising Blaszczykowski for days but was caught out, much as Wojciech Szczesny was by the incident itself, by the sending off of the Polish goalkeeper.
On came Tyton pronounced Tee-ton, with the accent on the second syllable. Straightforward enough.
But when he saved the penalty from Karagounis with his first touch I felt I had to tackle his first name to give him the full glory - Przemyslaw!! You say it something like shemmyswav but in my case it was more a hopeful mumble!
And all this in a game where the other red card went to Sokratis Papastathopoulos.
It is not just for patriotic reasons that I am hoping that there is a lot more of Hart, Terry and Young to come...