Simply the best
World and European champions Spain are the greatest national team of all time, says Paul Merson.
Last Updated: 09/08/12 1:36pm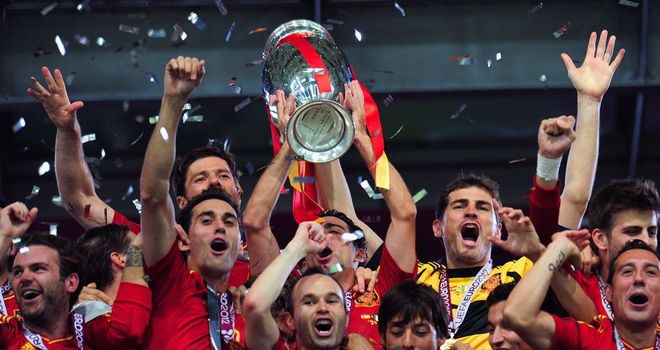 Spain were sublime against Italy in the final of Euro 2012 and, in my opinion, are now the best national team of all time.
They've won three international tournaments in a row and none of the great sides of the past have achieved that.
Brazil, Holland, West Germany - they've all had top teams but the modern game is a lot harder, a lot quicker and the players have to play a lot more matches. This current Spain side are a class above everyone else.
We're lucky England didn't meet them. I read Jamie Redknapp's column and he said we're behind the times - well, Spain's performance in the final was a prime example of that. The way they pass and move, play the simple ball and make angles for each other is incredible. Then, when they lose the ball, their closing down is second to none.
They interchange positions and, even though they don't play with anyone up front, there's always someone making the forward run at the right time. They don't play Subbuteo football like England. Their manager must sit on the bench and think he's got the best job in the world.
They've had some stick during this tournament but we have a thing in this world where we expect people to be unbelievable all the time, but you just can't do that. It's impossible. Look at Rafa Nadal at Wimbledon last week. He lost to Lukas Rosol, who's ranked 100 in the world. If he played that lad another 500 times he wouldn't lose again. We get spoilt by Spain and think they've got to win 4-0 every week. But, even in the games where they have drawn 0-0, such as against Portugal, you can see why they are so good. When it came to extra-time in that match you thought, with Portugal having an extra two days rest before the game, Spain would tire. But I can't remember Portugal touching the ball during extra-time. The opposition just can't get the ball off them.
Their strength in depth is phenomenal too. They've got Fernando Llorente, a £30m striker, on their bench and he didn't kick a ball in the whole tournament. That's incredible. Then you've got Juan Mata, who won the Champions League with Chelsea and he only comes on for the last five minutes against Italy, and still scores. Unbelievable.
My kids play football games on the Playstation and watching Spain, they play like they're on a computer game. They just lend the ball to each other and the other team can't get close. They're massive favourites to make it four in a row at the World Cup in Brazil.
You just hope England are looking at Spain and trying to learn something. The first thing we've got to do is knock 4-4-2 on the head. People say a lot of clubs play that in the Premier League and everyone knows their positions in that formation because they're used to it. But don't underestimate the players that play for England. They are good players and could play to whatever system you want. You play 4-4-2 in lower leagues because, no disrespect, you don't want to over-complicate it - but we need a different approach in international football.
TEAM OF THE EUROS:
Spain
are my team of the tournament because they went on and won it impressively but I also have to give respect to Italy. To go into the Euros having not won a football match in 2012 and on the back of getting smashed 3-0 by Russia a week or two before tournament and do what they've done deserves respect. Certain teams have the right mentality for tournament football. I know they finished bottom of their World Cup group - but look at how they've come back.
PLAYER OF THE EUROS:
Sergio Ramos
was unbelievable. To let in one goal in the first game and then go through the rest of the tournament without conceding is superb - and Ramos was at the heart of that defence. He shackled Ronaldo in Spain's match with Portugal and any time Ronaldo went near him the Portuguese came off second best. And how about that penalty he took against Portugal? I know people focus on attacking players but any team, no matter how good you are going forward, have to be strong defensively. The 1982 Brazil side was one of the best attacking teams of all time. They had Eder, Zico, Socrates - but they couldn't defend and Italy beat them 3-2. Spain have a great defence and no attacker who came up against Ramos got a kick.
BEST GOAL OF THE EUROS:
Mario Balotelli's
second goal against Germany - I loved everything about it. The ball into him, the movement, the finish: it was fantastic. It was a huge game for Italy. They were underdogs and needed something special and Balotelli provided it.
TOURNAMENT REVIEW:
It's been a good one. It's been a lot more open than I thought it would be. I thought it would be tight and defensive but even when it was 1-0 or 0-0 the matches seemed to be very open. It was well run and I think it can be considered a success. There are plans to increase the number of teams involved in the Finals for the next Euros and I have to say I agree with that. It's a good call. As it is the Euros are a very difficult tournament and don't give you much leeway. Look at Ireland: they lost their first game and within four minutes of their second match, against Spain, their tournament was over. If you have another team in your group it gives you that extra chance. It's a hard enough tournament to qualify for as it is, so you shouldn't be on your way out after one and a half games.