Miles behind the rest
Merse says Roy Hodgson is too inflexible with his tactics - and that England CAN'T win the World Cup.
Last Updated: 09/08/12 1:37pm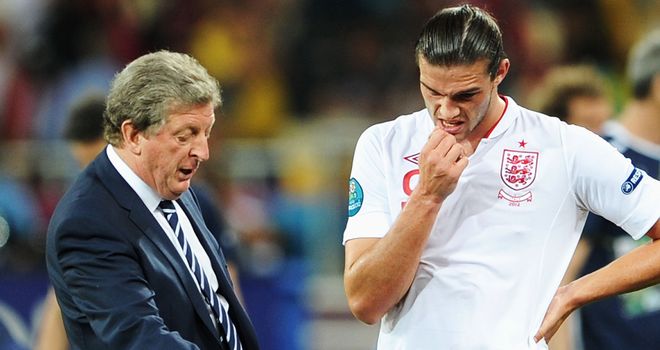 In any job you do in life you have to be flexible.
If you're a painter and decorator and someone asks you to paint their house differently then you have to do it differently. If you're a builder and somebody asks you to build a different sort of house then you build a different sort of house.
Roy Hodgson is good coach and a good bloke, but he just wasn't flexible enough against Italy. He went in with a rigid 4-4-2 and it didn't change when Italy got on top.
It was very quickly obvious that Andrea Pirlo was pulling the strings on Sunday night. Surely an experienced coach, who has been around the world, must have realised that wasn't right? Surely he realised he had to change it?
You had to put someone on Pirlo. You can't just let him run around and pass the ball wherever he wants. I could still play football at the top level every week if nobody ever came near me - and I'm 44 years old. I could still spray balls around for fun if I got the room Pirlo got.
We had to change things. I think you needed three in midfield and they should have put James Milner in the centre and put him on Pirlo. When you look at Milner's career his best ever season was at Aston Villa when he played in central midfield, not right wing.
Milner works very hard, but he's not an international winger. However, you could easily have asked him to go and sit on Pirlo. The guy is 33-years-old and can't run! He was let go for nothing by AC Milan last year as he's past it!
If Italy play Spain in the final then, believe me, Pirlo won't touch the ball more than 10 times and he'll get taken off before the end of the game. But he was running the show against us - and you only have to look at his penalty to see how confident he was.
The best tacticians I ever played under were George Graham and Harry Redknapp. Those two were head and shoulders above Arsene Wenger and people like that.
Harry would have spotted that straight away. There's no way he would have let that keep on happening. The worrying thing is that Hodgson didn't seem to see it...
Miles behind
You can't sit here and say England were unlucky. I'm sitting here thinking we are a million miles behind.
I take no positives from that game. We were playing a team that hadn't won a football match in this calendar year until they beat Ireland. All the good work from our first three games was undone.
To be fair I think me or most of the people reading this column could have got us out of the group. France are a decent team, but then we had Sweden (apart from Zlatan Ibramimovic, which Swedish players could get into the England team?) and Ukraine, who are hardly world class.
I reckon half the Italian team would get into our side - at most - and yet they had 31 shots during the game. You could send Barnet to Old Trafford next week and Manchester United wouldn't get that many shots.
We were never going to win the tournament anyway because we don't have a world-class centre-forward (and I don't class Rooney as a centre-forward, I class him as a number 10).
You need someone up front who's world class and we don't have that in Andy Carroll and Danny Welbeck. How Jermain Defoe doesn't get a game is beyond me because he's still our best centre-forward.
And here's another thing: I bet he would have stepped up and taken a penalty.
If Carroll did not put his hand up then he should be embarrassed. How can a £35million striker not take a penalty? Since the age of 10 when he was playing Sunday morning football in Newcastle his job has been to score goals, but he did not take a penalty.
I've not got a problem with Ashley Cole taking one - and I feel sorry for him for missing - but that isn't the point. He's the best left-back in the world, but his job is to stop people; scoring goals doesn't come naturally for him.
Carroll was bought for £35million to score goals and you should always put your best takers in your first four in any shoot-out (you wouldn't leave Lionel Messi until the fifth penalty because it might not get there).
And you can't tell me it's about who's confident and who isn't because Ashley Young took one and he's had an absolute nightmare in the last three games...
Talent
I don't know where we go from here.
People talk about academies, which have had millions of quid pumped into them, but when you turn up to these academies you'll often find an 18-year-old with no experience coaching the kids.
We also tend to coach the talent out of kids. I remember the first time I played against a young Joe Cole at West Ham, I couldn't catch my breath. He did something against me and I laughed because he was so good.
But look at him now. When he gets the ball he lays it off. If you look at the FA coaching manual, we'll never produce another Joe Cole. I'm not sure if we have any young players coming through and if we do, the talent is getting coached out of them.
It's time to start playing to our strengths. In the Premier League we play at a high tempo every Saturday with shots and crosses coming in from all angles, but when we get to international football we think we need to keep the ball for 40 passes. Against Italy we'd make three passes and lose it!
You have to play to your strengths. I'm a TV football pundit; you don't see me trying to perform brain surgery! It should be exactly the same with football.
Right now, we're an also-ran. If we get to the next World Cup we'll be making the numbers up, it's as simple as that.
It's not possible for us to win. It would be the biggest miracle ever if we won in Brazil.
Merson's Mark: D
We didn't exactly go out with a whimper, but we're just not good enough. It's pretty simple. We also need to be more flexible when the World Cup qualifying comes around.