No Spain, no pain!
Paul Merson says England fans couldn't have asked for more after the first three games of Euro 2012.
Last Updated: 20/06/12 3:17pm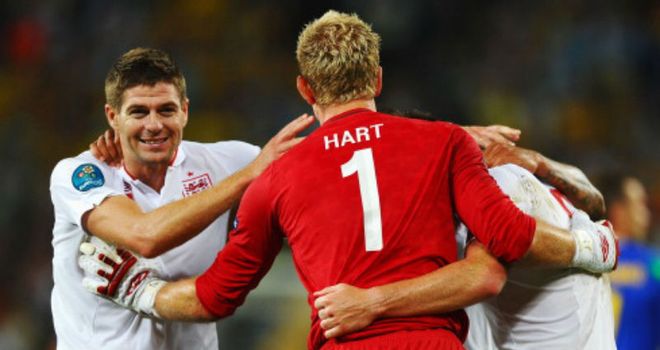 We're in the quarter-finals. We've skipped Spain. What more could anybody want?
People are saying we didn't play great on Tuesday night, but you have to take into consideration that England were playing Ukraine in Ukraine. Any international footballer will tell you that playing away from home is very, very difficult. Even if we'd been playing Estonia away it would have been a hard game to win.
I don't see anything wrong with the way the team played. Roy Hodgson's way is 4-4-2 and we're going to be hard to beat. I know Ukraine had a few opportunities, but whoever you play will get a chance or two at this level.
I thought there were a lot of positives to take out of the game. Wayne Rooney may have been rusty at the start, but he got his goal; at the back I felt John Terry and Joleon Lescott were outstanding; and in midfield Steven Gerrard was very, very good.
I don't think he has as much pressure on him when he plays for England as he does for Liverpool, where he has to do absolutely everything. He has to carry his club team, but he doesn't feel that way with his country and that's why he's doing so well.
It's a big honour to captain your country and he's been absolutely outstanding. Sometimes with Liverpool he tries to hit a killer ball with every other kick, but he hasn't done that here. He's been careful with possession and his pass selection has been excellent.
I'm a big fan of Gerrard and I still think he's the best player in England.
Scoring
From day one I said I couldn't see England scoring a lot of goals at Euro 2012.
I know we got three against Sweden when we had to come out and play, but we let in two at the other end in that match. I think we may find it difficult to score for much of this tournament and the forwards are going to be feeding on scraps. We're not going to get 20-odd chances per game.
Hodgson is asking his players to play as a unit and the wingers are going to have to do as much work going backwards as they are going forwards. It's hard to get the balance between defending as a unit and creating lots of chances.
Ashley Young and James Milner haven't been great so far, but I wouldn't be critical of them. They've been asked to do a job that means their attacking flair won't be shown too often.
In fact, I think they'll both keep their places against Italy. We might even get a situation where we get outnumbered in midfield and Andrea Pirlo keeps getting on the ball, forcing Milner to come inside and play in central midfield. That would allow Scott Parker to track Pirlo, while Milner makes forward runs from the middle.
So I don't expect any changes, at least in terms of personnel, for the Italy game.
Luck
I know there was an element of luck to the win, but whoever wins this tournament will need to be lucky.
I watched Spain the other night and they were lucky to stay in the tournament . Yes, they had 90 per cent of the ball, but Croatia had the best chance of the match and if Ivan Rakitic had put his header away the champions could have been going home.
So I don't mind England getting a bit of luck. Marko Devic's shot was definitely over the line, but the same thing happened to us against Germany in the last World Cup and it doesn't hurt for us to have a bit of luck for once, if you're English!
And remember, we would have still gone through anyway.
Everything's worked a treat so far. We've won two games, we've got seven points, we've scored five goals and we've beaten the hosts in their own back yard.
And to cap it all, we've got the best draw in the next round - but I'm sure Italy will be saying the same thing.
At the start of the tournament they'd have wanted to avoid France because they'd gone 20-odd games without defeat. Meanwhile, we wanted to avoid playing the World and European champions. Both teams have got what they wanted.
Before the tournament I said I wasn't sure if we could get out of the group - but if we did then we could go a long way. I stand by that.
I was always concerned about what would happen in a game when we really had to go for it. That game turned out to be the Sweden match and, at times, we got ripped apart.
But that was the only game in this tournament when we had to win. There were two matches where a draw was good enough and we only let in one goal.
We will go into the Italy game and be hard to beat. That should be a very cagey match until the first goal, but if we can score early then both teams should open up and I can see us winning 2-1.
It's going to be very interesting from here on in.
Merson's Mark: B+
I've played international football and I know how difficult it is to beat another country on their own ground. We did a very good job against Ukraine, we kept a clean sheet, we got through to the next round and we got a nice draw. A lot of people didn't give us a chance and we're through. It's everything we could have asked for.