Strike it unlucky
Andy Carroll netted a bullet header against Sweden, but Merse expects him to be benched against Ukraine.
Last Updated: 17/06/12 3:49pm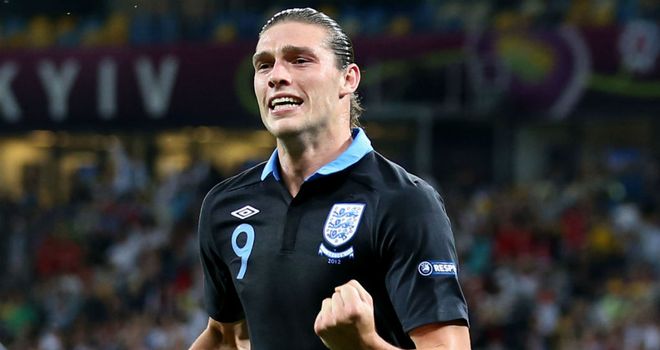 England's win over Sweden has papered over a few cracks.
Sweden's excellent set-plays are not something we are likely to defend against again in this tournament, but that 20-25 minute phase in the second half when Olof Mellberg scored their goals was very worrying from an England point of view.
Erik Hamrén's team could have scored more than twice and you feared it might be like Germany in the last World Cup because we completely lost our shape. Sweden are not great but they made us look average at times, and if we play like that against Spain or Germany we could be brushed away.
The senior players like Steven Gerrard, John Terry and Ashley Cole, who have got a lorry-load of caps, need to turn around and say: 'Right, we're having a bad spell but if we settle down we'll get back in this game and create chances'. That happened eventually but we cannot have what happened last night in another game.
The defence wasn't great at times and there were a lot of last-ditch efforts which you don't really want, but Gerrard and Scott Parker pushed the team on from midfield, especially Parker, who looked out on his feet first half but was outstanding in the second.
And fair play to the lads for fighting back. Theo Walcott came on at 2-1 down and it was completely different; we had a go, we attacked and if we were more clinical at the end we could have won four or five.
Walcott is a must to start now. People will say ask whether he can do it from the first whistle but what he has is sheer speed and that frightens defenders at the highest level.
James Milner started off brightly but then he faded and Walcott showed the effect of pace, which is priceless. You need a bit more than Milner's hard work to go deep into tournaments and Walcott has it.
Sublime
The big problem Roy Hodgson has is who of Danny Welbeck and Andy Carroll do you leave out, because Wayne Rooney has to play.
Carroll, whose headed goal was sublime, helped cope with Sweden's big players at both ends of the pitch and later in the game he made two clinical headers out of England's box, while Welbeck also scored with a brilliant finish.
Carroll doesn't deserve to be dropped - but I think he will be. We will probably play on the counter against Ukraine and I would expect Roy to go with Welbeck's pace and Rooney in the hole behind him.
Rooney will hit passes for people to run onto and Welbeck is better at that than Carroll, plus Rooney will drop off into pockets and give Ukraine something to think about
We are going into the final group game with our fate in our own hands, and I think that is all you can ask for as a player, manager or a fan.
You could argue that Ukraine are the weakest team in the group, but they played better than France in the first half of Friday's game and caused them more problems than we did; they just didn't score when they were dominant.
We will be 4-4-2, very difficult to beat and play from a shape. Ukraine have to win and will come at England and we can sit back like we did against France.
It's not a forgone conclusion but I don't see us not getting a result, and we really should be looking for a victory and try to win the group.
MERSON'S MARK: B+
We were pretty good for the majority of the match, but that period in the second half really worried me and if we play like that against better teams we will be out of the competition. The fightback, though, was different class.