Points of view
Paul Merson says England will accept a draw on Monday - and France will feel the same way.
Last Updated: 09/06/12 11:11am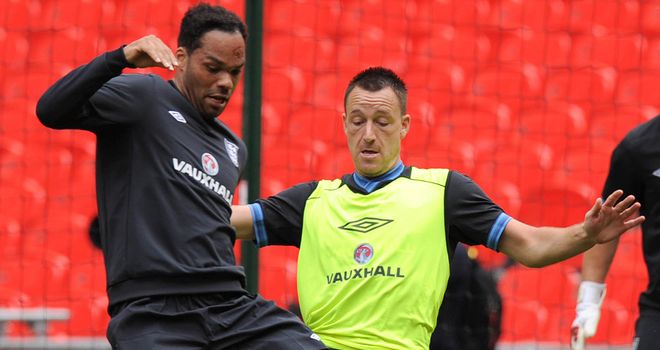 England's opening game against France is absolutely massive, especially when you look at the standard of this tournament.
When you go to a World Cup you usually get a free game that you know you're going to win against someone like Saudi Arabia, but it's not like that in the Euros. Apart from Brazil and Argentina, the best sides in international football are all here.
There's only three group games, so you can't afford to lose the first one. I'd be shocked if England lost to France and still managed to get out of the group. It's not beyond us to beat both Sweden and Ukraine, but it would be very difficult.
A draw would be a good result for us - but I think France will be thinking along the same lines. If you asked both managers I think they'd take the draw before a ball is kicked.
France are on a 21-game unbeaten run and will turn up very confident, but they haven't been playing top-drawer opposition every week. They haven't played Spain and Germany twice in that time, have they?
They can't afford to lose this game either, so if it gets to 60 minutes then I think both teams will become petrified of conceding.
Cautious
So I expect France to be more cautious than usual, but I don't see them changing their team. They will keep it tight and ask their three star players - Karim Benzema, Samir Nasri and Franck Ribery - to go and win the game for them.
That's something England don't have. We're very solid in defence and in central midfield, but without Wayne Rooney we don't have the world-class forwards to go out and win games. I don't see England getting three or four goals in a game and that means the opposition have always got a chance.
Roy Hodgson has a difficult decision to make up front. Does he go for the pace of Danny Welbeck and try to open the game up so that France can't squeeze England? Or does he go for the outlet in Andy Carroll and look to him from set plays in a tight match?
Welbeck scored last week but he didn't really do much else after that, so I would probably pick Carroll. This will be a close match, so it could be a set piece that nicks it.
We'll probably have Ashley Young playing off the striker and, personally, I don't see him as a number 10. He's done well when he's been asked to play there but I don't think that's his position.
You could play Steven Gerrard in that role, but who would give him the ball? It's a big problem when you're playing in the hole and you haven't got someone to give you the ball. France would just man-mark him.
So I think Gerrard should play in central midfield, so he can get on the ball more often and provide it to Young.
Problems
On the wings is where it could be won for England. France play very narrow and I don't expect their wide men to do much tracking back. We could cause problems if we can get at their full-backs.
But I'm not sure Hodgson will have the confidence in Glen Johnson to cope one-one-one with Ribery for 90 minutes. He may ask the hard-working James Milner to play on the right and make sure Ribery doesn't get a kick.
Milner always puts in a big shift and I expect him to play, but he won't cause Patrice Evra any problems at the other end. Not even a little bit.
The only choices on the left are Stewart Downing and Alex Oxlade-Chamberlain baecause I don't think Theo Walcott has the football intelligence to play on that side.
Oxlade-Chamberlain has only started one game for England - against Belgium - and I thought he tried a bit too hard. Also, he's a young lad and if reports are to believed then he might get some stick off some idiots in the crowd. You don't know how that will affect him and it would be a risk to start him.
So while I think Downing is fortunate to be in this squad after the season he's had, I can see him starting this game.
I have no worries about England at the back though. Gary Cahill has pulled out, but I don't think there's anything between him, Joleon Lescott and Phil Jagielka.
It's hard call, but I expect Lescott to partner John Terry. I think Terry is a certainty to play and I think any of them will do a good job. We should be very strong in that department.
Ripped
If we play 4-4-2 and we don't get our wingers into the game then we could get ripped apart. You could see their central midfielders playing triangles and if Nasri and Ribery drop into little holes they could cause mayhem.
So I hope we have the flexibility to match up to France's formation if we have to. The problem is that we're not very flexible. As I said in my last column we're a bit 'Subbuteo' - the players end the game in the positions they started in.
I expect Hodgson to go with the way he knows and the way the players know, but you would like to think things can be changed if France start well.
Whatever happens, France will keep the ball better than us. The problem we're going to have in this tournament is that we don't keep the ball long enough.
Chelsea won the Champions League playing that way, but they had some unbelievable luck. I've been watching football for 40 years and I've never seen a team get the luck that Chelsea had in those two games in Barcelona and Munich.
Whoever wins Euro 2012 will need to be lucky - but you can't rely on that much luck.
England will need to grind out results and I honestly believe we could draw 0-0 with any team in the world. We've got good defenders and people like Milner and Scott Parker who will play the system well.
The problem we're going to have is getting through the group stage. We're going to have to score a few goals and win a game in one of those three matches.
But let's focus on that later. I think we'll get a draw against France. It'll be cagey, it'll be tight - and that will suit both teams down to the ground.