Football Expert & Columnist
Final reckoning
Jamie Redknapp says Italy boast the best player of Euro 2012, but he's backing Spain to take the trophy.
Last Updated: 30/06/12 8:09am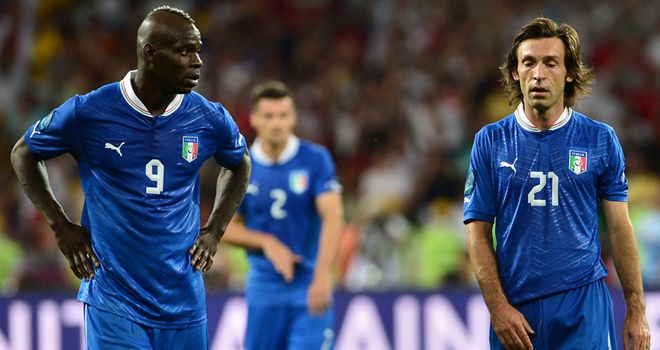 Italy have proved what belief and togetherness can do for a team.
In many ways they're reminiscent of the side that won the World Cup in 2006 because it's not necessarily a great team, but it's a group of players that is well organised and has pulled together.
They were exceptional in the semi-final against Germany, producing chance after chance once they'd gone 1-0 up, and they look like a team of men. The body language showed an all-for-one-and-one-for-all mentality and that's what's carried them all the way to the final.
And in Andrea Pirlo they have the standout performer of Euro 2012 so far and surely he must win Player of the Tournament? As a former midfield player I can't express how much I have enjoyed watching him. You couldn't get the ball off him in a telephone box!
I didn't think Germany would allow him the space that England did, but Italy set up very cleverly in midfield.
To use an American Football comparison, it's almost like Pirlo is the quarterback and Riccardo Montolivo and Daniele De Rossi are his blockers. They occupy the opposition midfield players and leave him with space to manoeuvre.
We saw that in the semi-final when Mesut Ozil - who'd had a good tournament for Germany - completely forget to play football. He was so worried about stopping Pirlo that he forgot to do his own job.
Pirlo is like a wily old fox. Every time to ball comes to him he has a picture in his head of where the next pass is going to go and he's been a joy to watch.
Italy have always been renowned for having a superstar number 10 like Francesco Totti or Roberto Baggio, but this year the superstar has been in a much deeper position.
What about Mario?
There's no doubt the final against Spain will be won and lost in midfield because whoever can dominate that area of the pitch should end up winning the game.
And while Italy will flood the midfield, their two forwards have also been exceptional. Antonio Cassano has often flattered to deceive, but he was excellent against Germany.
And then there's Mario Balotelli who remains somebody who can win you the game, but he can also lose it for you!
Jamie thinks Mario Balotelli to get sent-off in the Euro 2012 final
In the semi-final I saw a footballer who was mentally right. There were no distractions and he looked like he was there to win the game for his team-mates. When he plays like that, then he's obviously a fantastic footballer.
However, I look back at the red card he got for Manchester City against Arsenal and those antics could have cost his side the title if Manchester United hadn't blown up. You don't need to see that side of him because against Germany we saw a genuine star.
Let me make it clear. We don't want footballers to be robots and we want to see the genius-madness gene that Balotelli possesses. I played with Paul Gascoigne and Robbie Fowler, who also had that in their genes, and I loved it because they were capable of doing something special.
With Balotelli it often seems to be about him, but in the semi-final he was chasing back and working hard for the team. If he keeps playing like that he'll make a lot of pundits - myself included - look like mugs because we've slaughtered him in the last 12 months. You want to see the footballer as well as the maverick and I thought he was immense on Thursday.
His CV could soon feature a European Championship medal to go with his Champions League medal, his Serie A titles, his Italian Cups, his Premier League medal and the FA Cup. That's not bad for a 21-year-old!
In fact, it's easy to forget that he's still so young and sometimes it seems like he's a kid playing with the big boys because he's treated that way by the rest of the squad. When he came off the pitch against Germany you could see there was a lot of love for him among the other players.
Which formation?
Cesare Prandelli deserves every penny he gets for looking after him as it can't be easy.
In fact, I would say the Italy manager has impressed me more than any other at Euro 2012. He has used different formations and it will be interesting to see if he reverts to the 3-5-2 that worked against Spain in the opening game. They kept Spain quiet, but with the two forwards they maintained an attacking initiative and looked like they could score themselves.
I wouldn't be surprised if they go back to that because they had success with it last time, drawing the game 1-1. However, it's a dilemma for Prandelli because he would need to change the team that played so well against Germany and it's hard to know what he will do.
It's also difficult to try to second guess what system Vicente del Bosque will use because I wouldn't have predicted he would bring in Alvaro Negredo for the semi-final.
Jamie is backing Andres Iniesta to score first on Sunday
Chelsea fans might be getting worried because Spain don't seem to think much of Fernando Torres right now. They brought three substitutes in the goalless draw against Portugal and he still couldn't get on the pitch.
In my opinion, they look a better side with Torres up front and while he hasn't scored as many goals as he would have liked (the Ireland game aside) I think Spain's best moments have been when he's been on the pitch.
I don't see how you can play without a recognised forward in this game because the Italians have proved they can defend for their lives, but it wouldn't surprise me if Spain don't - and Del Bosque knows his squad better than any of us.
I do feel that they have missed David Villa, though. He scored five times at the last World Cup and four times at the last European Championship and he gives them something different.
If the main man was fit then they wouldn't have all these questions over the formation.
So what will Del Bosque do? He may decide to have a go at Italy and play a centre-forward or he might be more concerned with dominating the midfield and play a false nine instead.
Personally, I would like to see Torres in the side.
Redknapp Reckons
I went for Spain at the start of the tournament and I'm not going to change my mind. There was a lot of negativity after the Spain-Portugal match, but I think we'll have a real game on our hands, as Italy will have two forwards on the pitch and will go for it. I think Spain will just edge it 2-1.