Football Expert & Columnist
Click in Kiev
Jamie Redknapp hopes Italy bench the enigmatic Mario Balotelli and tips England to edge into the semis.
Last Updated: 22/06/12 1:42pm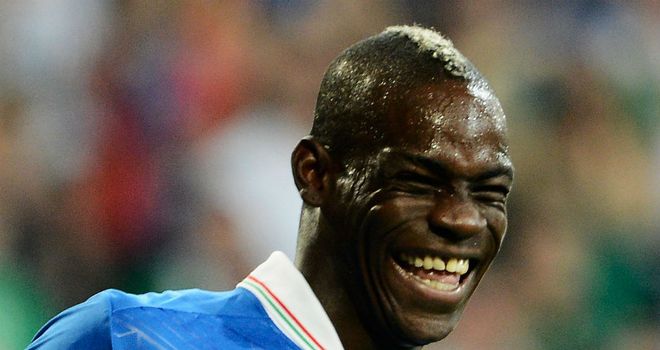 Going into the tournament you'd have put both England and Italy on a fairly level playing field.
The preparations for the two sides were far from ideal. The Italians had another match-fixing scandal to deal with and we didn't have a manager in place until a few weeks before, so expectations were low for both teams.
England got a bit of belief from their 1-1 draw with France and Italy seemed to grow in confidence after their opening draw with Spain when they played very well and looked like they could have won the game.
This may not be the best Italian team ever, much as it isn't England's greatest team, but they seem to have a bit of spirit in the squad.
Jamie's backing a draw in 90 minutes with Sky Bet
So I see Sunday's quarter-final as a 50-50 game and it should be extremely tight for 90 minutes with a moment of genius or a mistake deciding it. We could end up seeing a winner in extra-time or the heartache of penalties.
You've got to look for small things that could give one side the edge. I think the difference could be the injury to Giorgio Chiellini, the warrior Juventus defender, who has had a great season. He's an integral part of their team and they will really miss him. You always want your best players available and that could give us the edge.
But both sides will go into it with plenty of confidence and both sets of players will be thinking it could be their year. One of these teams could pull off a big shock in this tournament.
Together
There seems to be a chemistry and belief in the England squad nowadays. You can look at small things, like the way all of the players are singing the National Anthem, and while that might not make us a better team, it can make us a more together team.
Having been involved in England squads I like to see that. Under Sven Goran Eriksson and Fabio Capello it was often about individuals, but now it's about the team. I don't know if it's by judgment, I don't know if it's because we have an English manager, but I like it.
At the last World Cup it seemed Wayne Rooney felt like he was the main man, but having seen this team get two results without him he seems to be thinking differently now. You've got also someone like Steven Gerrard, who could probably give it the big "I am", but is always thinking about the team and is maybe sacrificing himself too much.
We are very well organised and everybody is working hard for each other, but I'm still not sure if this team are capable of playing cagey football.
We managed to keep a clean sheet against Ukraine, but I'm still not sure how we did that. Ukraine had chances, there was the goal that could have been given and they opened us up with considerable ease at times.
However, I expect Hodgson to stick with 4-4-2 and he's likely to stick with the same players. The only one whose performances have come under intense scrutiny is James Milner on the right wing, but he's been asked to perform a hard role that he doesn't usually do, as he usually plays further inside for Man City.
England to win in extra-time 10/1. See all match markets
Hodgson is asking the wide men to perform more duties defensively, rather than attack and win the game. He's being asked to do a job for the team and I expect the manager to stick with him.
Formation
We've been 4-4-2 in every game, a formation that has been used throughout football history, but one of the most fascinating aspects of this tournament has been watching the different approaches from various coaches.
It seems that 4-3-3 has become fashionable, but it was a pleasant surprise for me to see Italy play 3-5-2 in their first two games. That's a formation I played in for Liverpool and for England under Terry Venables at Euro 96.
It may sounds strange, but that formation seems to have gone out of fashion lately. I really like it as a way of playing and it will be interesting to see if Cesare Prandelli, who changed to a 4-4-2 in the last game against Ireland, reverts to that system.
If he does then the England full-backs will be really important. Glen Johnson and Ashley Cole will be our free men because Italy's wide players will be more concerned with Milner and Ashley Young. It'll be vital to keep getting the ball out to them.
However, Prandelli might decide to match up to England's 4-4-2 system, as they have done in most of their games before the tournament. Without Chiellini marshalling the back three, that might be the way he decides to go.
But I think that might play into England's hands. We're comfortable with that formation and I suspect three-at-the back would give us a few more problems.
Enigma
Finally, we can't talk about this game without mentioning a certain Mario Balotelli.
Anybody who has read this column over the last season will know I haven't been a massive fan of the Man City striker, but I must admit I would probably rather see him on the bench on Sunday.
If he starts the game then I can see it going one of two ways; he'll either get himself sent off or he'll score the winning goal! It seems there's no in between with him, but while he is an enigma, there's no doubt he has real quality. The goal he scored against Ireland was excellent and he could be a real nuisance to the England defenders.
Mario Balotelli is 13/2 with Sky Bet to be the 1st player carded
If he plays then I'm expecting a great battle with Joleon Lescott, who knows him extremely well. I've been impressed by the Man City defender and those two will go pound for pound. He and John Terry will do everything they can to wind him up because he seems to be very immature on the football field. They'll be trying to get him booked or sent off.
Italy don't have an abundance of great forwards and Prandelli could almost toss a coin over whether or not to include him. He'll study his body language and his attitude in the days before the game because as much as he can win you the game, he can also let you down.
So there's a dilemma for the Italy manager, but things are a bit more straightforward for Hodgson. He knows his best team and the only real question is whether to bring in Theo Walcott for Milner. We don't really have the squad to mix it up.
I can see him picking the same XI and saying 'go ahead boys'.
Redknapp Reckons
I'm going for a draw over 90 minutes and then England to nick it in extra-time. I don't really want to see Joe Hart running up to take a penalty in a shoot-out! The belief and togetherness we have in our squad can carry us a long way.