Football Expert & Columnist
Roo dares wins
England's young stars have thrived in Rooney's absence and Jamie says they mustn't stop now he's back.
Last Updated: 18/06/12 5:48pm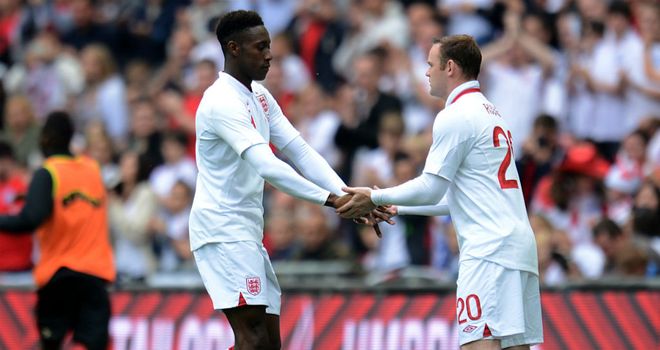 You have to start Wayne Rooney against the Ukraine, but I don't think we should expect miracles from him. The other players must keep chipping in.
It's crucial that we put our best players out there and if the opposition see Wayne Rooney lining up in the tunnel it will put the fear factor into them. England aren't in a position where we can afford to rest a player like him, but by the same token his return does not mean everybody else can switch off.
People like Danny Welbeck have really come to the fore during this tournament and it's really important they keep stepping up to the mantle. Just because Wayne's back it doesn't mean they can hand over the baton.
Jamie's backing England to beat Ukraine 2-1 with Sky Bet - 15/2
I was so pleased that the three young lads - Welbeck, Andy Carroll and Theo Walcott - scored against Sweden. That's great for English football because it shows we're not just relying on the old guard. They've proved to themselves that they can do it and that will be of great benefit in future tournaments.
But I hope they look at the return of Rooney and think it's great to have him back, but understand that they have a big job to do themselves.
As we have seen in the last two World Cups, Rooney doesn't always perform in the major tournaments, so it's important we show we can do it with other players.
Also, it's difficult to come back into the team after you've been suspended. You're never quite at the game level straight away and it takes a bit of time to get your match sharpness back. You can try as hard as you like to achieve that in training, but it's never quite the same, and it will be especially hard in the heat of Donetsk.
So I quite liked the honesty I saw from Rooney during Sunday's press conference. He said it's not all about him, there are other players and they all need to chip in.
We've proved we can do it without him under Roy Hodgson and we need to keep getting goals from all over the pitch.
Surprised
For me, Welbeck should play up front with Rooney in this game because he's done ever so well so far in this tournament.
Hodgson has surprised us with some of his team selections. I didn't see Carroll playing against Sweden, but it proved to be a good move as he scored a fine header, but I think his role against Ukraine will be that of a weapon to throw on in the last 20 minutes if we need to go direct.
I'm sure Scott Parker and Steven Gerrard are dying for Rooney to get back into the team too. They'll be able to lend the ball to him, bring him into the game and then he will provide distribution and quality.
We need to pass the ball well in this match and take the sting out of the game because it will be a real cup tie. It will be fast and furious and Ukraine will want to play at a high tempo. We can't afford to sit back and counter too much because that would be asking for big trouble.
I'm not really a fan of the 4-4-2 formation that we've used so far. Having played in central midfield for England I always felt uncomfortable about being outnumbered in that department. I suspect Rooney may need to play slightly deeper at times and drop in when we haven't got the ball.
Andriy Shevchenko will play a similar sort of role for them, so we will need to match them up in that regard. We need to have a good team shape, remain difficult to beat and when we get the ball we need to be progressive. We need get the ball out to the wide areas and look to score goals.
Jamie's backing Danny Welbeck to score 1st v Ukraine - 13/2
It's important that Hodgson gets it right on the wings. I can see him sticking with Ashley Young on the left - it wasn't easy for him when he was being asked to play behind the striker - and he played well for England in the build-up to these championships on the wing.
On the other side I would probably play Alex Oxlade-Chamberlain. If Theo Walcott has any issues with his hamstrings then it's not worth taking a chance and hopefully he can play in the next round if we qualify.
But I still think Hodgson will stick with James Milner. He's a great player when you want to close a game out, but when you want to score and be more expansive he struggles a little bit.
If he plays then we've still got Rooney, Young and Welbeck to win us the game and Milner could have an important role to play in tracking Yevhen Konoplyanka, who is a very good player for them on the left-hand side.
Realistic
So let's play without fear because we're more than capable of beating this Ukraine team.
But we need to be realistic as well because there were times against Sweden that we looked dead and buried. It took the arrival of Walcott - and a fairly lucky goal - before we went on to win the game. Let's not try and convince ourselves that was a wonderful performance.
Yet if you believe what you read in the newspapers you might end up thinking this game is a foregone conclusion. People are talking about whether or not we can top the group and who we might be playing in the quarter-finals.
First of all, we've got to get past Ukraine, who have home advantage and there will be a great atmosphere, like there was in their first game against Sweden. Their team isn't full of star players, but they've got a good work ethic and I think it's going to be really tough. I don't think we should be taking too much for granted.
I'm nervous because they're a decent side and if we think we just need to turn up to win then we could be in trouble. England aren't great at playing for a draw - we've proved that throughout our history in major tournaments - so we've got to play to win.
The equation is very simple for Ukraine. If they win then they're through and sometimes that's not a bad position to be in. Our players only need to get a draw, but if you watched our last two matches we haven't looked like a side that was set up to get a clean sheet. We've been far too open at times.
So let's just get through and let's not worry about who we have to play in the quarter-finals. If we end up playing Spain, so be it, we may have to play them at some stage anyway. We've beaten them once in the last 12 months, so hopefully we can do it again.
It's just important to get through and not worry about anything beyond that. Let's get the approach right for Ukraine and make sure we don't get knocked out.
Redknapp Reckons
I'm nervous because it's not in our nature to go and play for a draw. It's important that we play progressive football and play with attacking impetus because if we sit back then we're asking for trouble as I feel Ukraine are good enough to beat us. But if we do things right then I'm confident we can win this game 2-1.