Football Expert & Columnist
Roy's Mil deal
James Milner's graft could prove crucial for England against a slick French outfit, says Jamie Redknapp.
Last Updated: 08/06/12 7:22pm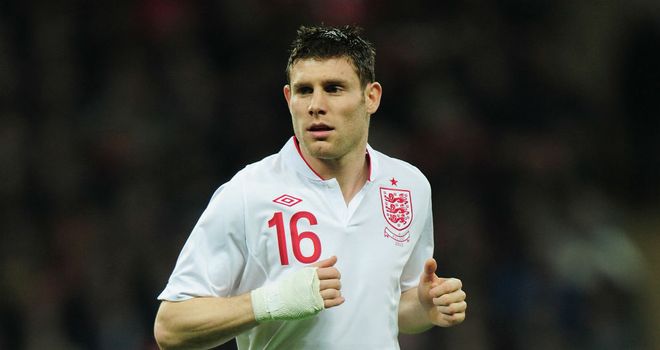 Roy Hodgson still has a few selection dilemmas ahead of England's opening Euro 2012 game against France.
Gary Cahill's injury has left a space open at centre-back and I think Joleon Lescott's experience will see him get the nod to partner John Terry; he played very well for Manchester City during their title-winning season and deserves the opportunity.
A Terry-Lescott partnership might lack explosive pace, if you were to be ultra-critical, which means Roy will not want the full-backs, presumably Glen Johnson and Ashley Cole, to push on too much and leave them exposed, as France have plenty of pace up front and can be devastating.
Jamie's backing England to get a 1-1 draw against France - 5/1
But even if we had rapid centre-halves I'm not sure that would convince Roy to be attack-minded, as throughout his long career in management his style has always been to be functional.
I expect us to play a 4-4-1-1 formation with Scott Parker and Steven Gerrard sitting and protecting the back four, and Ashley Young in the number 10 role off of lone frontman Danny Welbeck.
I like Young and think he had exceptional spells during his first season at Man United, but I'm not sure playing in the hole is his ideal position; he figured there against Belgium and set-up Welbeck's goal, but he didn't get much of the ball.
The number 10 role is a very specialised one. You have to have wing mirrors on, if you like, and know exactly where you are when the ball comes to you. Sometimes you have to take one touch, while sometimes you have to turn and play in your frontman.
Ashley Young to be 1st goalscorer against France - 8/1
I don't think that suits Young down to the ground and when Wayne Rooney comes back I can see him moving out to the left wing, where he has been so effective at Old Trafford.
But we don't have too many players who can pick that final pass so with Rooney suspended, Young is probably the best fit for the free role at the moment, if not the perfect fit.
Gerrard would have been a good option but with the injuries to Gareth Barry and Frank Lampard we need him in a deeper role, which is a bit of a shame because he has the ability to change a game.
Link
Welbeck and Andy Carroll both have strong claims to play up front, but I would go for the Man United man because he looked very sharp against Belgium and is a better link player than Carroll. Plus, you would like to think he would have a good understanding with club team-mate Young.
Carroll could end up being a really good substitute to bring on for the final 15 minutes so he can attack set-pieces which, as we saw in the Champions League Final between Chelsea and Bayern Munich, can be crucial.
The winger spots could leave Roy with the biggest headache and he will have to decide whether he wants the hardworking James Milner or speedier, more attacking players like Theo Walcott and Alex Oxlade-Chamberlain.
France's biggest threat will be down their left with the extremely potent partnership of Patrice Evra and Franck Ribery; Evra will almost act like a winger at times and that could put England on the back foot.
That's why, with Roy's tendencies as a defensive coach, I think he will select the safer option of Milner on the right-hand side, who also has the ability to tuck in alongside Gerrard and Parker when needed.
Strengths can also be weaknesses, though, and when Evra does bomb on that will leave gaps that a Walcott or an Oxlade-Chamberlain could exploit, but I think Roy will want the quicker widemen coming on later in the game.
Slick
Roy is experienced at international level, having managed Switzerland, Finland and the UAE, but he's new to England so I don't think he will have the edge over France boss Laurent Blanc. Both will be nervous and hoping for a solid start.
Yet both men's sides are in good form; France have not lost in 21 games, while England have only been beaten twice in 17 matches since the 2010 World Cup - by Netherlands and France.
We shouldn't fear France as they don't have a Zinedine Zidane-like figure anymore, but they have got some very good players.
I like Ribery, Samir Nasri, and Karim Benzema a lot, while they looked very slick when I saw them play against Estonia recently, cutting through their opponents with ease.
Franck Ribery to score anytime against England - 3/1
Yann M'Vila looks like he will be out and that will be a blow because he is a strong defensive midfielder who helps make them tick, but Yohan Cabaye, who had a great season for Newcastle should come into a very confident side. If France get their tails up, they can really play.
England have sat back, soaked up pressure and tried to counter-attack against lesser teams than France, so we will definitely do the same thing on Monday.
I can imagine it being a very similar match to when Chelsea played against Bayern Munich and although that is a dangerous game, I think it could work.
JAMIE'S JUDGMENT
I don't necessarily see us beating France but I think we will get a 1-1 draw, which will be a good result ahead of the games against Sweden and Ukraine.