Following the glory
What next for Di Matteo, Drogba and Torres after Chelsea's triumph? Ray Wilkins has his say...
Last Updated: 21/05/12 12:25pm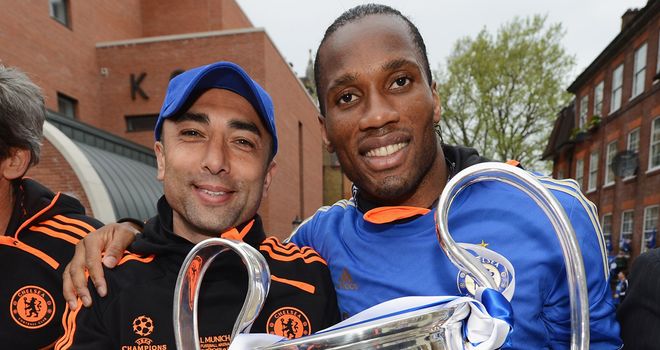 What does the future hold for Chelsea after they were crowned champions of Europe?
The Blues achieved the ultimate prize in European club football when they toppled Bayern Munich on penalties to win the Champions League, but after the team made history thoughts must now turn to the future.
Should interim boss Roberto Di Matteo be given the job on a permanent basis? Should goalscoring hero Didier Drogba sign a new deal or take up a reported offer from Shanghai Shenhua?
And what about Fernando Torres, who has expressed his disappointment at being left out of the starting XI for the game and for not being given a penalty in the shoot-out?
Sky Sports News posed these questions to a man who knows the Chelsea dressing room very well; Ray Wilkins, who was the club's assistant manager from 2009 to 2010.
Here's his take on where they go from here...
What's the future for interim manager Roberto Di Matteo?
Who knows? I would have thought that if Robbie was going to be given the job then that would have happened already. I'm a little bit wary of that and I think it may go elsewhere. He's certainly done enough to warrant getting the job; he's handled the situation in a remarkable fashion and has handled himself in a great fashion. He's done all he possibly can to convince Mr Abramovich that he's the man.
I've no idea what's going against him. Certain people fit certain jobs and it's been pretty evident since Robbie was dismissed by West Brom that's he's found a very pleasant niche at Chelsea and he seems to manipulate and work the players, from a squad point of view, in a fantastic fashion. It's been a remarkable achievement. He's been very low key himself, he's done a very good job but it's a rebuilding job that Mr Abramovich wants. Whether he thinks that Robbie's the man to do that I have no idea.
Should Didier Drogba sign a new deal or bow out on a high and move on?
I would love to see Didier stay, but he's got one last move in his career. I know for a fact that Didier works extremely hard in his charitable organisation, so I'm sure he would like to secure a lot of money so he can assist a lot of people. Whether that goes by staying at Chelsea or, as is reportedly being said, by moving to China is another matter. Certainly, Didier Drogba is a player for the big game. Whenever that big game turns up there's only one man you stick on that team sheet - and that's Didier Drogba.
I think he wants to play, but when Didier finally hangs up his boots I'm sure the club will look into how they can utilise him because he's extremely popular in this country, but in the African nations there's only one man out there - and that's Didier. That would be a very wise choice to use him in that fashion.
What is Fernando Torres' role at Chelsea after his obvious frustration at being on the bench on Saturday?
The manager has to make a choice and when you've got two strikers of the calibre of Didier and Fernando then it's obviously an extremely difficult choice to make. The manager has to make that decision and I can perfectly understand Fernando. If Fernando was happy at being left out or happy at not being given a penalty then I would be distraught - because that shows the guy has got no desire. He's bound to be unhappy at not being given either role. I've no qualms with that whatsoever.
Of course he still has a role. I think Didier may move on and Fernando has done really well in the last couple of months. He looks as if he's settled himself down a bit and he's started to play some really good football. He was part of the evening on Saturday, so there's no real problem. It's the same with any player that joins a massive club - and Chelsea come into that category now, having won the Champions League. It's never going to be easy, you have to fight against your own team-mates to get a game and when you're fighting someone of the calibre of Didier Drogba you have a slight problem.
What was it that saw them through this Champions League campaign?
It was a wonderful victory. They had a backs-to-the-wall semi-final against Barcelona and to a large degree it was very similar against Bayern Munich on Saturday. It was a remarkable achievement by the lads.
You need everything. If you're about to win something you need the whole shooting match on your side. When you're playing against the best you need a bit of luck. I must also say that in the last two months Petr Cech has returned to the type of form that made him the world's number one and the other night he was superb as well. That was a bit of fortune for them.
You can't go in there without any luck. Everyone needs luck. It's very similar when you talk about managers. Would you sooner be a lucky one or a good one? A bit of both!