Breaking point
Ray Wilkins wants Chelsea to up the tempo against Benfica in the Champions League last eight.
Last Updated: 27/03/12 8:16am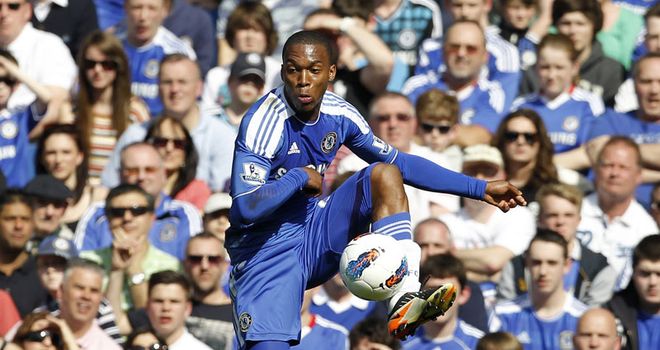 I'm sure that both Benfica and Chelsea are extremely disappointed with how things went for them at the weekend.
Judging by their respective draws against Olhanense and Spurs, it would appear that each side had one eye on Tuesday's quarter-final first leg.
Benfica must have wanted to put more pressure on Porto, while Chelsea would have loved to have beaten Spurs to improve their chances of finishing fourth, but it wasn't to be for either.
Competitive
Such is the depth of Chelsea's squad that it's hard to say if Roberto di Matteo played his strongest side at Stamford Bridge on Saturday, but he certainly played a very competitive side and one that would give anybody a good game.
At times I thought they could move the ball a little bit quicker - that would have helped them create more clear-cut chances - and they should strive to do the same on Tuesday because (as Manchester United will testify) Benfica are a good side and they will play at a tempo in what is a fantastic football arena.
It will be a great occasion and I expect Chelsea to be on the back foot a little bit to start off with; that's normally the case when you go away from home in Europe and they'll look to play a little bit more on the counter-attack.
We'll have to see whether Fernando Torres plays a major role but his little bit of extra pace over the top could help to hit Benfica on the break. Certainly the pace of Daniel Sturridge should come into play because he is very, very quick.
I felt Daniel could have done more to get himself into the game on Saturday when in possession of the ball; I'd have liked to have seen him be a little bit more positive, a little bit more dangerous to the opposition. When he's one-against-one few can go with him because he's lightning fast. He should take them on - if it comes off it comes off, if it doesn't it doesn't but at least you are giving it a go.
Risk
Benfica will no doubt have Chelsea's resounding comeback against Napoli in the back of their minds; they'll know how difficult life will be if they concede a goal at home.
It will put a little of the fear of god in them because they know they will have to score a few to take to Stamford Bridge; if they do come out and play in that fashion, then Chelsea have the quality to hit them on the break, so it will be a bit 'Catch 22' for them.
It was great to see Chelsea go a little bit gung-ho against what was a decent Napoli side; they caused themselves a few problems at the back but that's the risk you take when you are chasing something.
It was a great occasion and I was thrilled with the way that they played. It was a bit of a throwback, really, to see them go after a team and they thoroughly deserved to win.
Delighted
As a general rule, I agree with Di Matteo's point that ideally Chelsea should have a bit more time to prepare for games as big as this.
I'm all for playing games on Friday night if it helps - the Italians do it, as do the Spanish to give their teams a better chance of performing.
In all fairness, Chelsea probably couldn't have done it last week as they played at the Etihad on the Wednesday so they got the next best thing by playing Spurs on Saturday lunchtime.
I don't see why there should be a problem if a team has a free week and by playing earlier on they have a better chance of qualifying and doing well in these competitions.
On the whole I find myself agreeing with Di Matteo a good deal; he's done very well so far. It's never easy when you come in after someone has been relieved of his post but he's doing a good job and the owners should be delighted with how things have gone.
Sure, they would have liked to have won on Saturday, but you can't win them all.
I think Chelsea will score on Tuesday - which clearly is important away from home; I wouldn't think it a big problem if they were to lose the game 2-1, to be honest. I'm quite confident that Chelsea will go through over the two legs.
Heart
I read in some quarters that Chelsea might be interested in signing Cristiano Ronaldo; well, who wouldn't? Any team in the world would love him.
I just wonder - if Ronaldo did end up at the Bridge, what price would Jose Mourinho be to become head coach? That would be an interesting one.
Much more immediately Mourinho is preparing his side to take on the first Cypriot side to qualify for the last eight of this competition - Apoel Nicosia.
Fair play to Apoel - they've hit well above their weight to get out of the group stages. They can take enormous heart from their achievements but I can't see them going any further.
There looks to be only one winner from this game; Real have got probably the best squad of players in world football and I expect them to get hold of Apoel and give them a bit of a spanking, to be perfectly honest.
Quality
On Wednesday I'll be keeping a close eye on Bayern Munich, who I expect to go through over the two legs against Marseille.
Usually the Velodrome is one of the most atmospheric stadiums on the planet, but one side is closed at the minute so it won't be quite as intimidating as it normally is.
Bayern have enough quality in the forward areas to cause anyone a problem - the names of Arjen Robben, Franck Ribery and Mario Gomez just roll off the tongue - but defensively I don't think they are good enough to win this competition.
Yes, Didier Deschamps' side have already put out Borussia Dortmund but Dortmund - to be fair to them - were going through a very sticky period of the season at that time. They've since come alive again and have started to perform.
I think Marseille will find Bayern a very different prospect, especially now that Bastian Schweinsteiger has got himself back into fine form. They'll be buoyed by that magnificent 7-1 demolition of Basel.
I like the lad Loic Remy but it is going to take a massive effort for Marseille to get anywhere near them.