Mission possible
Chelsea are well capable of overhauling Napoli but need a clean sheet to progress, says Ray Wilkins.
Last Updated: 13/03/12 12:05pm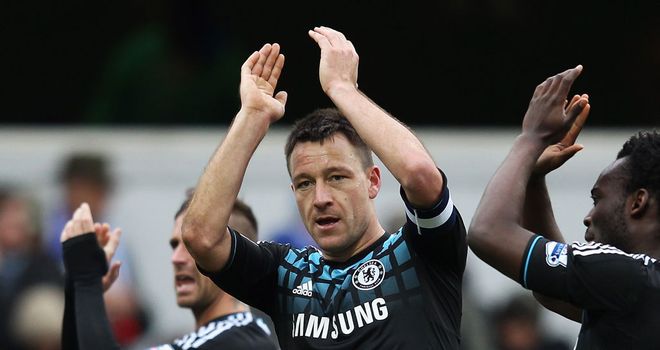 I see this game coming at the right time for Chelsea and therefore at the right time for Roberto Di Matteo.
They are 3-1 down from the first leg of this Champions League last 16 tie and it's an extremely tough ask for them because Napoli are up and are a real attacking force and you can always see them nicking one.
Having said that, the momentum is with Chelsea at the moment with two straight wins so it could be a fabulous night at Stamford Bridge, but there's always the fear of Napoli scoring.
I coached Roberto when I was with Gianluca Vialli at Stamford Bridge so I do know him quite well - I don't know his qualities as a coach or as a manager but he's a pretty forthright young man, I have to say. He'll get across what he wants to get across in the best possible fashion and there seems to be a slight change in the tides - long may it continue.
If you'd have asked me a month ago if they could pull off a result in a similar situation, I'd have said they had no chance. But after these last couple of weeks, with a bit of confidence creeping back in, a few laughs on the training pitch, I can see them pulling it off. The danger of course is Edison Cavani and co up front for the visitors.
I think to shun the likes of Frank Lampard on an occasion like this would be folly. They need as many experienced heads as possible. This might be the last time some of these men have the opportunity to qualify for the latter stages of the Champions League. I'm sure that if they hit a bit of form, this is not an impossible task.
I've been championing David Luiz to play right full-back and they did that in the second half on Saturday because you need stability through the centre of your defence. John Terry returned and they kept a clean sheet straight away so it's vitally important.
I'm not too concerned whether it's Gary Cahill or Branislav Ivanovic alongside him but John Terry must play because he's the stalwart of this team and whenever he plays, there's a good chance a clean sheet can be obtained.
When you're chasing, I sincerely hope the crowd play their part because the boys are going to need the crowd on their side. They're going to need them from the first minute, right in the faces of Napoli. I'm sure that'll be the case.
I don't think Napoli are good enough defensively to go all the way to the final. I think when you get into the latter stages, you have to be able to defend as well - unless you're Barcelona of course. But Napoli are very good, they've got pace and power, are undefeated in six and are on a little bit of a flyer at the moment.
I saw them play at the Etihad Stadium with their 3-4-3 formation and their organisation was absolutely superb, but I expect the pace and power of Chelsea to cause them more problems than the City boys did.
Nothing's impossible, it only takes a second to score a goal. They've just got to get momentum - momentum at the start and keep the momentum right up until the finish.