Lead of absence
John Terry and Didier Drogba must return to Chelsea's XI in Napoli, says Ray Wilkins, if possible.
Last Updated: 20/02/12 1:30pm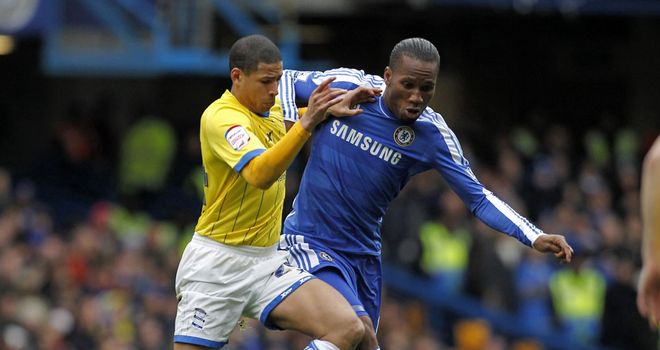 The Stadio Sao Paolo won't be a place for the faint-hearted on Tuesday.
The ground will be electric and it will be extremely difficult for Chelsea to come through and get a result.
I was out in Napoli in November to cover the group game against Manchester City and, my word, the atmosphere was fantastic.
The ground was two-thirds full two-and-a-half hours before kick-off; the fans, who have not had a lot of European football to watch in recent years, turned out in their droves and really let their voices be heard.
If you're a big player, that's the type of environment you should want to play in and I'm sure the Chelsea lads will relish the experience. If they are still in the tie for the return leg, the atmosphere will just as cracking at Stamford Bridge.
Laborious
I watched Chelsea closely during Saturday's draw with Birmingham and have to say it wasn't the best performance. It almost looked laborious at times but fair play to Chris Hughton - he set his side out in fantastic fashion.
Obviously, Chris' best-laid plans would have gone to waste had Chelsea scored early on. He would then have had to go to Plan B fairly early but that wasn't the case and they defended exceptionally well and made life difficult for Chelsea, who have now won just one of six games in all competitions.
The one piece of good news is that it looks as though John Terry may well be back in the fray because there's no doubt that Chelsea have missed him immensely.
Terry is a leader of men; results haven't been anything like Chelsea would like them to be when he's been out and his return can only be a huge lift for the side. The same goes for Ashley Cole; when you talk about world-class players, Ashley comes into that bracket. He's quite exceptional.
Expected
It's also time for another big man - Didier Drogba - to return to the starting XI.
Fernando Torres will be feeling as low as a snake's belly after being off at half-time at the weekend so, for me, Didier has to start. I feel for Fernando, I really do. He's had chances but there have been some great saves and some poor misses too.
I know he is working extremely hard to put things right but at the moment it doesn't seem to be working for him. He has a proven goal-scoring record, albeit not at Chelsea, and I'm sure that he'll add to that sooner or later if he keeps sticking at it.
Andre Villas-Boas is another man who knows the score. He knows he has to win something and given the quality of Real Madrid and Barcelona right now, his best avenue appears to be the FA Cup.
Chelsea have to win something this season, because that is what is expected after the success they've enjoyed in recent years.
Andre was Mr Abramovich's own acquisition, so one would have thought that he'd get a bit more time to prove what he can do regardless of how this tie pans out.
I think Chelsea can go through even if they come back to the Bridge with a goal deficit, but anything more than that will make life very difficult for them.
Splendid
Napoli may not be doing so well in the Italian League at the moment but they do have a fantastic front three in Edinson Cavani, Marek Hamsik and Ezequiel Lavezzi. Those guys can cause any defence in world football a problem.
They really did look a splendid unit against Manchester City, especially in the away game at the Etihad Stadium, where the way they set themselves out was exceptional.
They didn't give any room in between the lines for the likes of David Silva to pick the ball up; they were very solid indeed. Away from home they are always a threat on the counter. Lavezzi turns defence into attack so quickly with his pace. I think he's an extremely impressive young man.
They'll make it incredibly tough for Chelsea but across the two legs I'm backing the Blues to come through.
CSKA Moscow v Real Madrid
Real's biggest worries about this fixture might well be the weather and the plastic surface but I don't think Jose Mourinho will allow his players to dwell on either of those factors too much.
No matter how cold it is in Moscow, I'm confident the La Liga leaders can get the job done particularly as today's plastic surfaces are almost as good as grass.
Real won't relish going there but they are in great form - with 27 wins from 30 matches in all competitions behind them, including this weekend's 4-0 win over Racing. But they'll know they've got to stand up and be counted because these are the games where you've got to put your body on the line if you are going to win a big tournament.
Real are way ahead of Barca in La Liga but Barca seem to have it over them when they play each other.
Barca had a big game of their own this weekend, against Valencia, and they put five past them so it does appear that when a big game comes about - like in midweek against Leverkusen who they ripped to pieces in the second half - they are more than capable of stepping up.
I still think it is a tall order for Real to win the Champions League. Ok, La Liga is in the bag but whether they can surpass their rivals in Europe is another story.
CSKA haven't played for a couple of months due to the winter break and although they will have prepared for Real by playing games against local sides, it isn't the same; nothing stands you in good stead for playing the big boys like playing a big team so this is a major test for them.
The other ties
Basel aren't one of the big boys (despite putting Manchester United out) and I don't think they'll come up to the standard that Bayern will set.
Over the two legs I expect Bayern to go through - but then I expected United to qualify for the knockout stages! I thought United couldn't have hand-picked their group any better, to be honest, but it wasn't to be unfortunately and now the Europa Cup is looking quite a good tournament!
Inter Milan travel to Marseille after losing 3-0 at home to Bologna.
Marseille are never easy to beat, especially at the Velodrome, so this will be extremely difficult for Claudio Ranieri's men, who are on a bad run in Serie A.
But Inter are Inter - when these young men come up against European opposition they will raise their game, there is no two ways about it. They will defend properly and make life very difficult for Marseille.
I think Inter will go through over the two legs; they've got plenty of Champions League experience and this Marseille side is having some problems, despite being third in the league. Once that Champions League music cranks up before the game, I'm sure they'll be ready.