Grace and favour
Man City must turn on the style against Bayern, says Ray Wilkins, just in case Villarreal come up trumps.
Last Updated: 06/12/11 4:43pm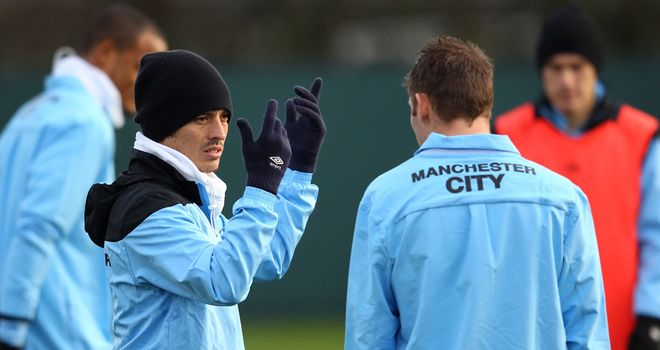 If Manchester City aren't in dire straits, they're in very difficult ones.
They have to beat Bayern Munich to have a chance of reaching the next stage and hope that Napoli slip up against Villarreal. It's a case of do your best and cross your fingers.
It will be an enormous disappointment for everyone concerned with City if they do go out at the group stages.
I've heard plenty of people say otherwise - that we shouldn't expect too much from them as this is their first year in the competition.
But I don't buy that. The players have bedded into the Premier League and the team is five points clear. Why shouldn't they bed into the Champions League as well?
City's squad is better than 99.9 per cent of teams playing in the competition so there's no question that they should be faring better.
Implications
Part of City's problem is that Napoli are scoring goals for fun right now.
Trust me, it's not easy to score four goals in the Italian league but that's what they did against Lecce to set themselves up very pleasantly for their trip to Spain.
We saw how well-organised Napoli are away from home, especially at the Etihad Stadium. Their front three - Edison Cavani, Marek Hamsik and Ezequiel Lavezzi - are very special. So even if City do see off Bayern, it's hard not to see Napoli getting a result.
Mancini has tried to play down the implications of going out at this stage, but they didn't expect to be in this situation and it will be a very big blow.
Yes, the on-going speculation over Carlos Tevez's future doesn't help and yes, they were very unfortunate in Munich where they should have had two penalties in the first half.
But even allowing for those factors, City should be in a far better position than they are, purely because of the talent within their squad.
Tough
The best thing City can do now is get on the pitch and make a statement.
Every fan wants to see his or her club doing great things against the best clubs in world football and Bayern Munich, at this moment in time, are a very, very strong German team.
Bayern beat Werder Bremen 4-1 at the weekend to go back to the top of the Bundesliga in some style and under Jupp Heynckes, they pride themselves on their organisation, technique and fitness levels. It will be a very, very tough game for City.
It will be terrific statement if they go out there and have a go at them. The fans deserve no less. It's the perfect stage for all the players - especially Mario Balotelli.
I saw his goal against Norwich and did wonder if it might have been easier for him to bend his head and nod it in but this young man does nothing by the book!
I would like to see a little smile on his face when he does these things just to compound the cheekiness but that's Mario. I guess we just have to accept Mario for what he is.
I've also enjoyed watching David Silva this year - he's been a revelation.
Some of the little passes that he and Samir Nasri played at the weekend inside the Norwich full-backs - with perfect pace on the ball - were sublime.
I don't doubt that City have the talent to beat Bayern but I fully expect Napoli to go to Villarreal and win, particularly as the Spaniards are depleted by injury, which will leave Mancini's men playing Europa League football.